Technology
32 people arrested and 12 injured in serious riots in Madrid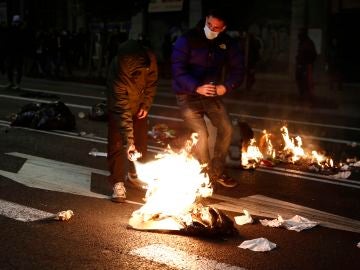 Posted: Sunday, November 1, 2020 9:07 a.m.
Samur Civil Protection had to deal with twelve people tonight – including three police officers – during riots in central Madrid after a protest against coronavirus restrictions, although none of the injured were serious .
As sources from Emergencias Madrid reported, in addition to the nine citizens, two national police officers and one municipal police officer were served.
None of the people were seriously injured and ten of them were returned to the scene, but two transfers were made to hospitals: a citizen injured in the head for suturing and a national policeman with dislocated shoulder .
The riots took place late at night in the center of the capital and left 32 detainees. Dozens of people tried to cut through the Gran Vía by burning containers and erecting barricades.
After ten at night, security guards evacuated Puerta del Sol where a demonstration was called under the slogan "We are going out into the streets, people are tired."
Against the government of Sánchez
Faced with this situation, the participants moved their protest to the Plaza de Ópera where more than a hundred people gathered with slogans against the government of Pedro Sánchez.
At the end of this demonstration, several dozen people went to Plaza España where they erected barricades and burned containers with the aim of cutting off the Gran Vía.
During their march, they also destroyed furniture on Madrid's main thoroughfare and threw stones at shop windows.
The national police disbanded these individuals, who threw objects at the officers and dispersed in and around Princesa Street.