Technology
58% of respondents support the six-month alarm state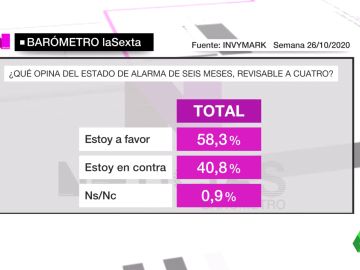 Posted: Saturday October 31, 2020 2:18 PM
New laSexta barometer after the entry into force of the second state of alarm throughout Spain due to the coronavirus pandemic. More than half of those questioned, 58%, are in favor of this six-month measure and that it be reviewed after four, while 40% oppose it.
The voters of the PP, Vox and Ciudadanos are those who are most opposed to this measure, even if one in four voters of the orange formation requested would be in favor of the measure.
Curfews are more widely accepted by the public: three quarters are in favor. Only Vox voters are overwhelmingly opposed to this measure, which causes a division between the popular and the citizens.
There is less optimism about the need to return to childbirth, with 59% believing that we will stay at home again as in March and April. 38%, however, don't think so.
By political parties, we do not see a clear position. In the PP, even in exact percentages, each of the options.