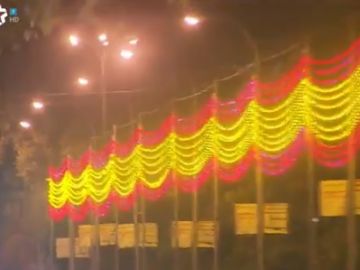 Updated: Wednesday, November 11, 2020 2:13 PM
Published on: 11.11.2020 13:54
A Christmas "flag". Madrid City Hall is finalizing preparations for its Christmas lighting with a great novelty: a giant flag of Spain that will cross the city from Plaza de Neptuno to Plaza de Colón, with an extension of just over one kilometer.
The installation of the thousands of led bulbs that make up the flag began a few weeks ago, but the first lighting test took place on Tuesday. Some Christmas lights that have already aroused criticism from citizens, who do not consider the banner to be a typical decoration of dates. For its part, as part of this commitment, the city council will install a second led flag on the Juan Bravo bridge, on Paseo de la Castellana.
Regional public television echoed the lighting test, showing the first images of the flag that will illuminate one of the city's main corridors from the end of November, when the Christmas lights were officially turned on.
From the Popular Party of the Community, they defend the attitude of Mayor José Luis Martínez-Almeida: "Some criticize the fact that we have put the flag of Spain in the Christmas lights. There is no better symbol of unity in the difficult times we are going through. "
But the idea of ​​the government of the capital is not new. The mayor of Zaragoza, Jorge Azcón, already bet last year to include the Spanish flag in the lighting of the city.
Almeida defended his proposal last Friday in an interview with Onda Cero, where he said he was "surprised" that "everyone's flag, the flag that unites us and should be a unifying element in a situation as difficult as that that we are living. , in the capital of Spain precisely, it is surprising that it can be placed at Christmas ".
In total, Madrid City Hall has budgeted for Christmas lighting spending of 3.17 million euros, higher than the 3.08 million it cost in 2019.