Health
A 'best seller' claim against lymphoma
Andrea notices that the mobile vibrates again in her hand. There is the message on the screen again: "Find her before she leaves." When did Lucia get so heavy? She adjusts her T-shirt and short jeans, ties her hair up with a rubber band, and examines her backpack. Travel pass 01, purse, water and the bag with the bracelet inside. Go down the stairs and enter the Metro, which, being Sunday and August, is a little less crowded than usual. There are four stops: Tribunal, Gran Vía, Sol, Tirso de Molina.
When leaving the Metro, Andrea appreciates the mask when the stench of pee hits her. A reasonable price to pay to enjoy the typical plant and flower stalls in Tirso square. How had he gotten into this? He had only been in Madrid one day when he found the bag on the floor of his hostel room. Inside a green bracelet with a note:
"Takk fyrir allt, Hilda. Góð ferð ".
Language detected according to Saint Google: Finnish.
" Thanks for everything, Hilda. Have a good trip. "
Also a pink Post-it note:" Bring on Sunday 24 ". Just the next day was Sunday 24 August. A love story, he thought. A Finnish girl visits Madrid and falls in love with a man from Madrid (or a woman from Madrid, Lucia insisted) and then she has to go. This was more exciting than her love life, which sucked. About to finish university and still longing for the debauchery of the adolescents of Euphoria or Elite. It is what I had to live in Zamora and not having gone on Erasmus. Her friend Lucia did not return to Madrid until Monday, but it turned out that she had a classmate who worked in the store where the bag was from. It was in Tirso de Molina and it was open on Sundays.
On the terrace of her apartment in Chamberí, Clara finishes cleaning her four floors, a ritual that she repeats every Sunday. It's amazing that they survived the summer, he thinks. He instinctively touches his neck with dirt-dirty hands. "Getting your hands dirty increases serotonin levels," Hilda explained in one of her talks. The soil has a bacterium called Mycobacterium vaccae that triggers the release of serotonin in the brain, a natural antidepressant that helps strengthen the immune system. Try taking care of plants. Your lymphocytes will thank you ". At that moment, two months had passed since the discovery of the lump on her neck.
Upon arriving at the store, Andrea smiled. This had to be a paradise for Lucia, obsessed with vintage aesthetics. A second-hand for modern with mannequins of the years 90 and keychains of Naranjito. Lucas, Lucía's friend, explains that the bracelet is made of jade and that it was bought by a boy with curly-almost-afro hair who works in a escape room in Lavapiés .
– I know him because I have already been four times with my colleagues. We are fifth on the honor roll. Have you ever been in a escape room ?
– No.
– In Zamora there is no ?
– I suppose, but I don't like closed spaces.
– You'll like this one, try "Rescate 2050 ", it has some very obvious riddles like the one about the two doors, but it's the milk.
– What is the puzzle of the two doors?
A girl with a tattooed arm asks Lucas about the Hawaiian shirts.
– I have to continue attending, sorry. Tell Lucía to take you while you're here, she's a freak.
Andrea sends a message to Lucía: "On the way to a escape room in Lavapiés "
Lying on the terrace, Clara accommodates the AirPods. Dave Brubeck at full blast also helps his lymphocytes, more in order than a year ago when the ultrasound showed enlarged nodes and another lump in his spleen. The lymph node biopsy confirmed that he had cancer. Non-Hodgkin's lymphoma. A week later he was receiving chemotherapy treatment. At 56 years she was submerged in a parallel world, within the parallel world that was already being the pandemic. Of the entire hematology medical team, Hilda, her nurse, had been her greatest support.
– I need you to tell me the truth –he asked when leaving one of her chemo sessions.
– I'll tell you if you ask me the right question.
– Ok. Am I going to die?
Then he told her the truth, what she already knew:
– You have a 56% chance of staying alive.
At the counter of the escape room, Mario points to a group for the "Rescue 2050" experience. Andrea has just entered the premises and while she waits for her turn to come, she concludes that the boy with curly-almost-afro hair is not bad at all (in the absence of the check-up without a mask).
– Are you coming alone?
– I think you've lost this –Andrea shows her the bag– it was in my room at the hostel.
– I can't believe the you have found! We went up on Friday to say goodbye to some colleagues and my friend must have dropped it from his backpack.
– Is it for Hilda?
– Hilda?
– Yes, the girl in the note, the one from Iceland.
– Ah, now. It must be Clara's nurse. She has been my piano teacher since I was little and my coach to enter the conservatory.
– What's wrong?
– A lymphoma.
– What's that?
– I didn't have a clue either. It is a blood disease, a type of cancer that affects the immune system.
– Wow, sorry. And then is he dying?
– No, no. Now it's good. Well more or less. She was so screwed up after four and a half months of chemotherapy. He lost his hair and could barely lift the lid of the piano. She still does not leave the house much because of the Covid. Her brother has been taking care of her, but he is away for vacation and she asked me to bring Hilda the bracelet before she left.
I'm leaving in an hour. Do you want to come with me to give it to him? Without you it would not have been possible.
"Thanks for the bracelet. Enjoy your 70% ". Clara takes a screenshot of the message she just received. He runs his hand over the head where the hair is still growing. Like your plants. Today Hilda begins a new stage in Finland and she a second round in Madrid.
Andrea and Mario return in the subway from Hilda's house.
Message from Lucia: "BlaBlaCar caught. I arrive tomorrow afternoon. Have you found Hilda yet? "
" Yes. And Mario ".
" Who is Mario? "
Andrea sends a smiley face from the side and puts her phone away.
– So you didn't know what the puzzle of the two doors is? –Asks Mario.
– No, but I looked for him and it turns out that he appears in a Bowie movie.
– Sure, he's the king of the Goblins in "Inside of the Labyrinth ". If you haven't seen it, you're already taking a long time.
– It's something like discovering the truth by asking the right question, right?
– Something like that –Mario answered and Lower the mask to drink water.
Checkup completed successfully, thinks Andrea.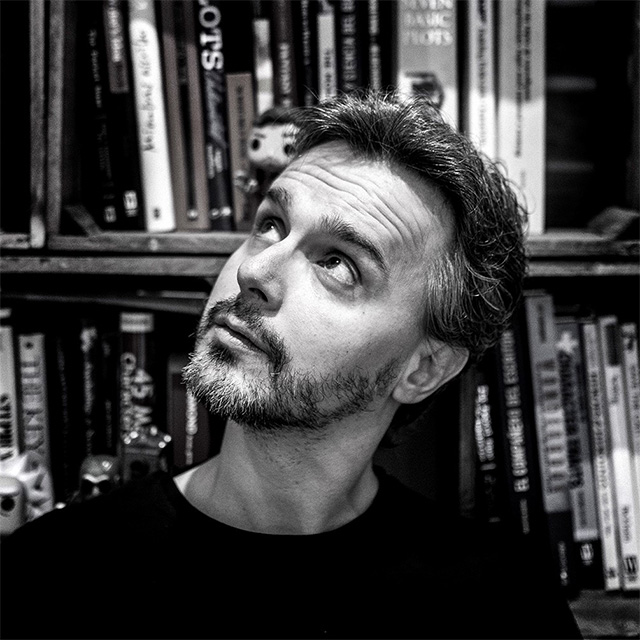 Juan Gómez-Jurado (Madrid, 1977), journalist and writer, he is the author of several successful novels. Of White King, Black Wolf and Red Queen have been sold more than a million copies. Some of his works have been translated into 40 languages. It also has acceptance among children and youth audiences. The author learned of the disease in his childhood: "A classmate died of lymphoma. His name was Juan De Dios. He was a huge stick. You grow up and you realize how important investment is to continue researching and finally achieve a cure ", he highlights. ________________________________________
Visibility and engagement
On 15 September World Lymphoma Day is celebrated; a date especially dedicated to this hematological disease that pursues the objectives of making it known throughout society, making its importance and symptoms visible, and training and accompanying patients with this type of cancer.
From Roche, we join this day with the campaign A dos degrees de ti #Linkfoma, to continue walking alongside patients and professionals sanitary s and reinforce our commitment to innovation, research and advances in this area.