Health
A house to be a mother in freedom
It's not what you have, it's what happened to you. It is not a defect, it is a story. It is not a defect, it is an event. Casa Verde is a project that fights to change the model of care for mothers and fathers with mental health problems. It is based on listening, supporting without judgment or paternalism, respecting rights. "It can be said that it is a unique resource in Spain . It transcends the purely medical and sanitary aspects ", affirms Miguel Castejón, psychologist of 64 years and Director of Projects of the Fundación Manantial, the association dedicated to people with mental disorders on which it depends. Located in Vallecas (Madrid), the center offers counseling and psychological therapy, and lays the foundations for healthy filial relationships . The purpose is to provide the parents with tools so that they can carry out parenting with guarantees.
Casa Verde has something of a school. Its bright rooms are full of books, paintings, pictures, tables and toys. Since its opening in 2011, it has been more of 160 families from the Madrid districts of Villa de Vallecas and Puente de Vallecas. Although there is no pattern, in general, women with children up to five years old attend. "We find mothers who are very lonely and have little social support . With specialized help, their confidence to raise children grows and the bond with their children is strengthened ", explains Sara Molina, from 36 years, occupational therapist and member of the multidisciplinary team of the resource.
The center is accessed for free. Patients are referred from the public mental health network and must have a medical diagnosis of mental problems, such as schizophrenia, bipolarity, obsessive compulsive disorder or anxiety. Casa Verde operates from Monday to Friday and has a telephone 24 hours of service. The therapy, which is articulated in specific appointments of 45 minutes, it is coordinated with the schools so that missing class is not a problem for the child.
years of "perfectly normal motherhood"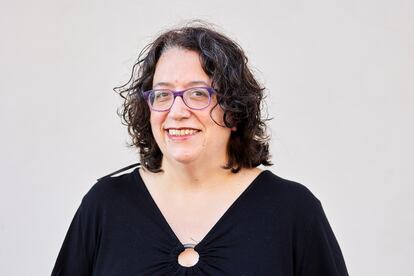 Silvia García is one of the best ambassadors of Casa Verde. Mother of 47 years , mental health activist and reading mediator in the center, living since 20 with a bipolar disorder that has not prevented him from caring for and educating his two daughters . He testifies forcefully and clearly explains the situation of mental care in Spain. "When you break your leg you go to the orthopedist. But when you have a mental problem there are no such immediate or effective treatments , which leads to dangerous abandonment ", he denounces.
In his case , the circle was closed: García, after a continuous work with his psychoanalyst, enjoys what he describes as "a perfectly normal motherhood" . At present he collaborates profusely with Casa Verde, a center that he came to know as a result of his involvement in other activities of the Manantial Foundation and that entered his eyes first. He meets many of the mothers who use the resource and gives talks, lectures and supports anyone who requests it. But he argues time and again that mental health disorders do not come standard nor are they notches in genetics. It is his main workhorse and the reason he wields about the stagnation of public attention and the success of models like Casa Verde. "It is a wound that has to do with helplessness and hostility. Most people with mental health problems have difficult lives , have suffered neglect or abuse. Not that you get struck by lightning. And if that's not addressed, it can be devastating, "he continues.
One in four people suffers or will suffer from some type of mental health problem in their lifetime
This epiphany is not the rule. The stigma is still great. Carlos Rodríguez, from 39 years old and a social worker at the center, he says that mothers who have heard of them often call on the phone. They ask shyly, they want to know, they grope. "Mental illness is hard to accept. Many women assimilate it when they see that it begins to affect the child. It is a delicate issue and motherhood should never be questioned , and much less if the reason is a vital injury ", she explains. To dissolve these prejudices, and for mothers to acquire new capacities and autonomy, in essence a greater freedom , Casa Verde promotes parenting skills, offers job guidance, facilitates the search for resources social and economic and opens conflict resolution programs in the family nucleus.
If Casa Verde's work has made you think, you want to know it in depth or participate
ACT