Health
A teacher, four students and a challenge: that the covid vaccine reaches all of Africa
Four adolescents of 16 years of Ourense – Amelie Carrillo, María Fernández, Noelia Losada and Laura Atrio – share the same dream: bring the covid vaccine – 19 to those places that are difficult to access, both due to their orography and because there is no adequate health network to reach everyone. To achieve this, they have a plan: use drones. "They arrive quickly and to points where it would take longer with another transport," explains Laura Atrio, one of the young members. The project can be very big not only for young people of 16 years, but for anyone. But its protagonists have sufficient reasons to believe that it can be developed both in theory and in practice. And a fundamental help: that of his teacher Rocío Prieto.
The idea arose in the sanctuary of Santa Maria de Lluc (Mallorca). There, this group of adolescents, belonging to the 4th year of ESO of the Santo Ángel school in Orense, spent a week at the beginning of July as a prize for having won the Bigdata challenge, one of which is made up of the Educaixa Challenge program, and directed to teachers and students of ESO, Baccalaureate and intermediate level training cycles. Its objective is for students to present projects in which they can identify trends and transform the vast amount of data existing on the network into patterns (the big data) and turn them, through work, into something useful for society. A methodology based on participation and cooperation that had already managed to agree and grease the common work of these students.
That retreat —which they shared with another 18 student teams, also winners of other challenges of the Educaixa Challenge— had, however, one condition: that those days served to reflect, sketch and present a larger-scale project in which, verbatim, "the great technological advances that facilitate the day-to-day life of thousands of people to improve the lives of those who need it most ". During that week, the teams exchanged thoughts, attended talks, and met with businessmen and politicians. On the penultimate day, each group had to present that new project, which was viable in real life.
'Social technology' for a pressing problem
At that time, what was most talked about in Spain was vaccines. During the investigation, the team realized that Africa had a vaccination rate of less than 1%, while in Spain a third dose was debated (and debated). They also noted that there were many batches that were about to expire and would be lost. This reality put the students on alert. So it occurred to them that, before wasting them, they could take advantage of them and take them from Spain to any point in Africa with the help of drones.
Already at the destination, there must be personnel qualified to administer them. "The doses would reach the health centers of the small towns to supply them. In addition, in Africa a doctor can go to different towns, take a census and request the vaccines he needs. With the drone they would get to him faster and it would be more precise ", explains Atrio.
The four adolescents argue that in this way it is possible to transfer vaccines in a short time and, in addition, reach places that would otherwise be impossible. "We have seen that there are companies in Spain that are dedicated to transporting components in drones, even between countries, and there are others that send packages. In our case, we want to keep them in refrigeration equipment and power the battery by means of solar panels to maintain their temperature from the vertiport to the areas where they are to be administered, and in this way we also help the environment. "
The 'guardian angel' in the form of a teacher
This entrepreneurial spirit aimed at improving living conditions did not inspire Amelie, María, Noelia and Laura suddenly; on the way they were not alone. Although the idea of ​​the drones for the delivery of vaccines is theirs, they had an ally: their teacher Rocío Prieto. The teacher was in the project from the beginning as a guide and mentor and, without her help and guidance, it would not have been possible.
Prieto's history with teaching began six years ago , when he decided to quit his job in a company to dedicate himself to teaching. A chemist by training, this Madrilenian living in Galicia since she was four years old was already combining her studies at university with collaborations in different solidarity groups. "When someone does not have to pay for an academy, there are volunteers to help people without resources," he explains. One of the most rewarding experiences of her life, she recalls, was when she volunteered as a teacher for children who came from other countries and had difficulty with languages. "They did it from Morocco, Senegal or other places and needed help with their homework," she recalls.
Her first step after graduating took her to the business sector. "When I finished my degree, I got a job where I lived and I gave him an opportunity to get to know the industrial world. I liked the experience ", he explains. Although he always wanted to dedicate himself to teaching, the illusion to start his working life and the proximity of the position to his family and friends finally deviated his path. So, he put his life on autopilot.
day by day and you let yourself go. If I had not become pregnant, I would not have made that change ", summarizes Prieto his passage to teaching
They passed 10 years and Prieto learned that she was pregnant. It was then that he was able to stop and rethink his life. "I was happy, the routine fills your day to day and you let yourself go. If I had not become pregnant, I would not have made that change. ", She acknowledges. When she was in a chemical company she couldn't give herself that time, but when her daughter was born she took a break to think about whether she really was where she wanted. "I've always said that she gave me that push that I didn't have before," he says.
Finally, the opportunity came. Fate would have it that the same school where he studied, the Santo Ángel (Ourense), announced that it had a free place. It was a position for the new Technology subject. What he wanted most was to give back to the young people the experience that he had accumulated over these years. She introduced herself and has been a science teacher ever since. His objective was, and is, to bring his experience to the classrooms, to serve as a bridge. So from the beginning, he proposed to his students a series of challenges in which they could apply what they learned in class to the real world. Some were invented by her, others had to be submitted to a contest.
On November 9, key date
Since she has been teaching, she and her students have won various awards, including the last two editions of the Bigdata challenge by Educaixa; the last, the one achieved by these four young women who, after the summer, became his former students, since the Santo Ángel school does not teach high school. However, all of them await, along with Prieto, the date of November 9. That day they will know if they are part of Educaixa's Next program, a mentorship that lasts an academic year to which they have presented their vaccine and drone project, and that it would help them develop it.
Although, for his presentation to the Next program, Prieto first modulated the ambitions of his four former students, making them understand that they had to start with something smaller. Therefore, it occurred to them to apply the idea to their geographical area: "There are nuclei in Spain that are isolated and elderly people live there who complain that they have to wait many hours or take a bus to receive help, and that removed them ", Explains the teacher.
A year later, Prieto guides them so that one day the dream will come true. "Thanks to my experience in private companies, I can help them find the necessary tools to develop it", explains the professor. What motivates her the most is seeing the interest with which the four of them have taken the project from the beginning. "We need to study, but we will dedicate our free time to continue with this idea. We also lack age, contacts and people who are interested ", recognizes Laura Atrio. An experience that is consistent with the vocation of all. "I would love to study Medicine because I like to help people and I am very passionate about health," he says.
Because this project is about that: to help those who they need it. This is what Prieto did throughout the process to serve as an example. For this reason, the four adolescents, and the rest of their classmates, hold the teacher in high esteem. "She is a very good teacher. He has always supported us in everything and has been the person who has driven us the most and has always trusted us ", they acknowledge. Above all, they emphasize that she is a friend. What makes Prieto feel most proud is precisely that she is still in contact with former students, and for her, happiness consists in knowing that a part of who they are today is thanks to their challenges.
How to use 'big data' to analyze the environment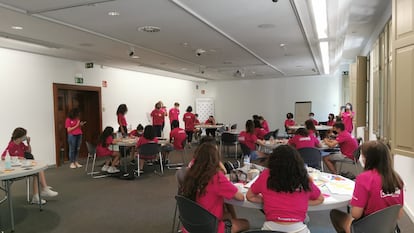 The Bigdata challenge won by Amelie Carrillo, María Fernández, Noelia Losada and Laura Atrio and supervised by the teacher Rocío Prieto, from the Santo Ángel de Ourense school, is one of those that are part of the Educaixa Challenge program, from the La Caixa Foundation .
In its last call, the proposed topic was The impact of the covid in our closest environment . To do this, each team was given different spreadsheets. These data included information from the service, agriculture and industrial sectors, and they had to draw their conclusions from them. "They brought us an Excel table with an immense amount of data and we did not have great knowledge of the program. It was very complicated for us at the beginning ", explains Atrio.
After analyzing and screening the data, this group of students presented a project entitled Three waves of separation from our loved ones, and aimed to analyze the consequences of the covid – 19 in his environment and the effects in his close circle. Finally, this work was one of those chosen from among the nearly a thousand that were submitted. "To carry it out, it helped us a lot to talk with our families and acquaintances. Some of our friends' parents work in these sectors and remain in ERTE due to the pandemic ", says the student.
For more information of the La Caixa Foundation programs click here.
Credits
Editorial: Alfonso Álvarez-Dardet
Photography Óscar Corral
Design: Belén Daza
Development: Rodolfo Mata
Editorial coordination: Francis Pachá
Design coordination: Adolfo Domenech