Technology
Abascal responds to Bildu with the reading of the more than 800 people killed by ETA: "It's good that they hear their names"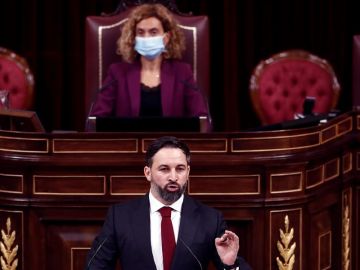 The head of Vox and candidate for the presidency of the government, Santiago Abascal, took advantage of his turn to respond to the intervention of Mertxe Aizpurua, deputy of EH Bildu, during the motion of censure to read one by one the names of all the people who they were assassinated by the terrorist group ETA. A speech to which he devoted his 30 minutes of intervention.
Some, Abascal said during the reading, have parents who are involved in politics today or who are even in the ranks of Vox. He also particularly remembered those who were from his village, people he knew or murdered who are now the parents of his friends.
"Of these nearly 1,000 crimes, there are more than 300 unsolved. Those who fired, the snitches are free today and maybe some of those who indicated that it was necessary to vote vote here," Abascal said at the end. "They don't want to talk about recent historical memory and those with whom justice has not been served." "Take advantage of impunity because you can be sure it will end," he said.
The Vox MPs, who first sat down, chose to stay standing reading all the first and last names, and erupted to loud applause at the end of Abascal's speech.
Mertxe Aizpurua, in his turn before the names were read, reminded Vox that "ETA ended nine years ago". "Basque society is building peace and they are neither there nor expected". For this reason, he explained, "we are going to vote" no "to fascism and hatred and say" yes "to rights and freedoms", thus advancing his vote in the motion of censure.
The truth is, this is not the first time that an MP has read the names of ETA victims. Antonio Basagoiti, of the Popular Party, did so in 2013 during a plenary session of the Basque Parliament convened by EH Bildu to deal with "the Basque conflict".
"It is disrespectful to the memory of my father"
Although Abascal received applause from his bench, reading the names of those killed by ETA did not please everyone. One of the voices raised against this "use of victims" is that of María Jáuregui, daughter of socialist politician Juan María Jáuregui, murdered by ETA while he was civilian governor of Guipúzcoa in 2000.
"It is disrespectful to my father's memory that you use his name. I don't know if you know that my father fought against Francoism and was a firm defender of dialogue and democracy. I won't allow you to stain his name. Enough of using the victims already, "Jáuregui expressed on his social networks, addressing Abascal directly.
EH Bildu MP Oskar Matute also indicted Abascal in Congress. "All I ask is truth and justice for all victims. I don't want to use them to cover up the lack of political arguments," he said.
"Out of respect for the victims, which he quotes and deliberately omits, I will say what I said: truth, justice and reparation for all victims, also victims of parapolice violence," he concluded. .