Technology
accounts pending with victims and the law on historical memory on the horizon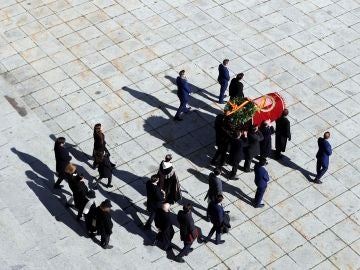 Madrid
Posted: Saturday October 24 2020 10:39
This Saturday is a year of a historic moment in Spanish democracy. On October 24, 2019, the remains of dictator Francisco Franco del Valle de los Caídos were exhumed, which were transferred to the cemetery of Mingorrubio (El Pardo, Madrid).
A year later, the wound is still not closed. Currently, the government is working on a law of historical memory which promises to prohibit "all spaces where the glorification of dictatorships occurs".
The first vice-president of the government, Carmen Calvo, did not exclude the ban of the Francisco Franco Foundation, advancing "a very important regime of sanctions" for those who do not respect the 66 articles it will include.
The Francisco Franco Foundation has threatened to take court action if the government ultimately makes the dictator's exaltation illegal. "If I say that with Franco there was no strike or that he built six million social housing units, is that an excuse for Francoism?" Defended Juan Chicharro, president of the foundation.
Politically, Vox has been clear and even threatening with the executive regarding the Historical Memory Act, urging them to repeal it with "opinions." This message came after the vandalization of the statue of Largo Caballero in Madrid; two days later, the sculpture of Indalecio Prieto suffered another attack.
While waiting for it to pass the compulsory procedures to the General Council of the Judiciary and to the Public Prosecutor's Office before it can be approved by Parliament, the law will declare "null and void" the trials without guarantees of the Franco regime and, according to government calculations. , will allow the recovery of around 25,000 retaliatory corpses from graves in four years. He also plans to turn the Valley of the Dead into a civilian cemetery in which tribute is paid to the more than 30,000 victims from both sides who lie in the crypt.
Over the past 20 years, more than 9,000 bodies have been exhumed, "some with public assistance and others not", as Emilio Silva, president of the Association for the Recovery of Historical Memory, recounts in El Intermedio.
Gestures with which the coalition government seeks to erase all traces of Francoism a year after the dictator's remains left the Valley of the Fallen.