Technology
Aguado assures health allows Madrid to perform antigen tests in pharmacies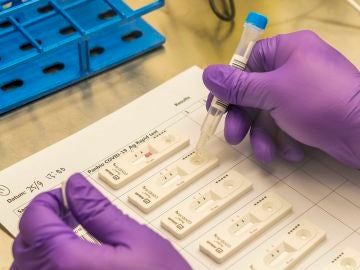 Publication: Tuesday December 15 2020 18:49
The vice-president of the Community of Madrid, Ignacio Aguado, announced that the Spanish government "has accepted the request of the Community of Madrid to integrate the regional network of pharmacies in the strategy of early diagnosis" of the coronavirus.
This was indicated at the end of the meeting held on Tuesday with the Ministry of Health, guaranteeing that, in this way, the region will be able to "carry out massive screenings in populations with high cumulative incidence, also counting on this whole network. of pharmacies ".
Sources close to this meeting between the regional vice-president (for citizens), the Secretary of State for Health, Silvia Calzón, and the director of the Spanish Medicines Agency, María Jesús Lamas, told LaSexta shortly before the ministry had given the green light to carry out antigen tests in the network of pharmacies in the region.
A few hours earlier, sources from the Presidency of the Community of Madrid had stressed that during the technical meeting held this morning with Health, the service headed by Salvador Illa had been "in favor" of carrying out antigenic tests in pharmacies, on the field of population screening in high incidence areas.
However, these sources clarified that the autonomous and regional government had convened another meeting in the coming days to advance the protocol for carrying out this type of test in pharmacies in high incidence areas. The same sources say that this is the "true scope" of what was agreed this morning between the ministry and the Ministry of Health.
For her part, the President of Madrid herself, Isabel Díaz Ayuso, spoke of the government's position regarding pharmacy tests a few hours ago, stressing that it means "to take one more step". "We continue to work," he added in a Twitter message.