Technology
Aina Vidal, applauded in Congress after her release due to cancer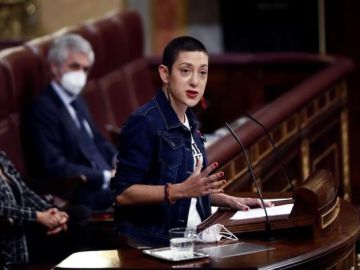 Posted: Thursday October 22 2020 12:26
A tribute in the form of applause for Aina Vidal. This is how the member for En Comú Podem was received when she stepped onto the stage to defend the positions of her group on the motion of censure. The Church Party MP had not been to Congress for three months due to "rare, widespread and aggressive" cancer, as she herself communicated last January on her Twitter account.
For this reason, most of the people present in the hemicycle paid tribute to him with applause. Meanwhile, PSOE and United We Can MPs got up to receive Vidal at the stand. The same goes for the entire first row of chairs in the hemicycle, where the members of the government were.
As can be seen in the images, the only formation that did not join the ovation of the deputy of En Comú Podem was Vox, whose representatives in the chamber remained seated without applauding. Some of them even took the opportunity to talk to their companions who were next to them. However, Málaga MP Patricia Rueda, unlike her far-right training colleagues, joined the tribute to applause. Vox sources told LaSexta that Abascal had approached the Catalan MP and greeted her after her discharge.
For her part, the president of the Congress, the socialist Meritxell Batet, also warmly welcomed the deputy by the microphone of the hemicycle: "Dear Aina, benvinguda", she said in Catalan. Then, and after receiving the applause, the MP recalled the last time she had attended a parliamentary session, which was during the investiture of Pedro Sánchez, when she had already been diagnosed with his disease. Vidal defined this day as a "bright and hopeful day" in which a left-wing government was formed.
"That day we showed, by the vast majority, that there are things that are above all else, like life and solidarity," said Vidal, who encouraged us to repeat this way of acting. more times: "We must defend respect, hope and love as a country project".
This is not the first time they have honored the MP
On January 7, during Pedro Sánchez's second investiture session, Podemos leader Pablo Iglesias drew applause from the chamber after thanking his party MP Aina Vidal for being in the chamber. Around this time, United We Can and the PSOE bench stood up to pay tribute to their partner.
The 34-year-old Catalan, who had communicated her illness a few days earlier via Twitter, could not contain her tears after the applause. At the end of the session, and after the confirmation of the investiture of Pedro Sánchez, his colleagues offered him a bouquet of flowers.