Technology
Aitor Esteban explodes before the "embarrassing question" of the PP to Irene Montero: "Where are the limits?"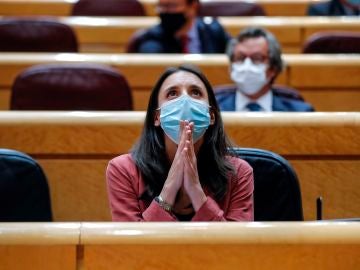 Published: Wednesday October 21 2020 08:46
PNV Congress spokesperson Aitor Esteban exploded after Equality Minister Irene Montero and PP Senator María Adelaida Pedrosa clashed over Vice President Pablo Iglesias' role in the Dina affair . The question led the minister to answer, in the face of personal attacks, that she goes to bed with whomever she wants.
The PP senator asked Montero if he was ashamed to "share his life with a chauvinist", in relation to the vice-president, partner of the minister, who replied: "I go to bed with whomever I want, ( …) you would like more than being able to tell women and people to sleep with ".
Pedrosa had accused Iglesias of "savage machismo" for the treatment of former councilor Dina Bouselham and urged Montero not to continue defending him: "Do not give in to a chauvinist man, it is a scandal that you, in as Minister of Equality, keep silent, "he said.
He then asked Montero "from woman to woman": "Are you ashamed to share your life with a chauvinistic man or are you going to be silent? Are you a female submissive to an alpha male?", Which provoked angry protests. on the bench on the left.
At that point, Senate Speaker Pilar Llop asked the senator to stick to the question, avoid making personal allusions and abide by the rules of procedure, after which Pedrosa insisted, asking to Montero if "she feels humiliated. as a collaborator by the vice-president of the government".
After these PP policy statements, Montero responded harshly. "I go to bed with whoever I want, and I tell them with this clarity because I can afford it, but there are millions of people in this country who because of their sexual orientation or because they are women and because of their laws and their Discriminatory attitudes must have seen their vital projects frustrated because they are intolerant, "Montero said.
"You would like more than to be able to tell women and people with whom they have to sleep," continued the minister, who criticized the PP for going to the Senate to insult and treat the government as macho when it is a party that "downsized. equality policy" and governs with a far-right party that "denies women's rights", referring to Vox.
Faced with this scene, Aitor Esteban launched a tweet in which he is very angry. "Unrepresentable, embarrassing question. Where are the limits?"