Technology
Almeida asks people of Madrid not to go to Puerta del Sol this New Year's Eve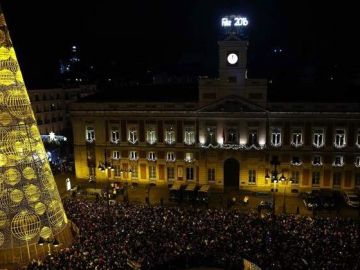 Publication: Thursday, November 12, 2020 11:02
Less than two months before the start of the Christmas festivities, the mayor of Madrid, José Luis Martínez-Almeida, is already asking residents to avoid going to Puerta del Sol on New Year's Eve.
This was indicated this Wednesday in an interview with "Onda Madrid", where he defended – pending the evolution of the situation of the coronavirus – the option according to which "as far as possible, we take the grapes at home" this year.
The first mayor of Madrid has yet promised that at this atypical Christmas, the Three Kings will be present "physically" on the night of January 5. "They will be in Madrid on January 5, that everyone has the guarantee," he said, indicating – after the cancellation of the neighborhood parades – that work is being done "in the most appropriate format" for the general parade. .
Martínez-Almeida also gave other details on what will be Madrid Christmas this year, confirming that the traditional market in Plaza Mayor will only have half the usual stalls and that there will be no San Silvestre, since this popular race "has also been affected by this pandemic."
The mayor, who has defended that the measures of the Community of Madrid "work", nevertheless chose to go "match by match", wondering if more than six people can bring these parties together. "Before looking at these dates, we must look at November 12, that is to say tomorrow and take all the measures," he said.
"Everyone would obviously like Christmas to resemble as much as possible the Christmas we have always had, but for it to be so, let's focus on November 12," insisted the national spokesperson for the PP, who nevertheless stressed that the pandemic situation had improved in Madrid.
"We are better. In the last month, we have reduced the number of infections by 60%, but we cannot say that we are well," he stressed, urging in any case "not to Lower the guards".
Controversial Christmas lights
José Luis Martínez-Almeida also spoke about the Christmas lights controversy of his city council this year: with a large Spanish flag more than a kilometer long. "The somewhat sterile and unnecessary controversies continue to surprise me," he said, declaring that "to any citizen of any country in the world, who will be asked if it seems strange that in the national capital there are lights with the flag of this nation, i wouldn't give credit. "
"That the flag of Spain is present is more than ever due to the fact that it is a particularly difficult and dramatic year for Spain and that we must strengthen everything that unites us and under this flag we are all", he justified. "It seems hard to think this could generate controversy," he reiterated.