Technology
Amnesty International calls for release of Jordis and calls for pardon from government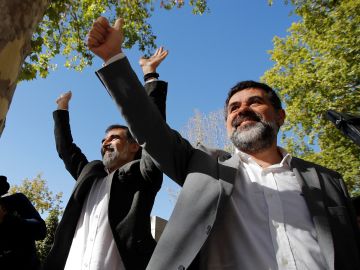 Posted: Tuesday, November 3, 2020 2:23 PM
Amnesty International Spain is calling for the "immediate and unconditional release" of Jordi Sànchez and Jordi Cuixart, while they are both serving three years in prison.
The organization denounces a "situation of injustice" against the leaders of the Catalan National Assembly (ANC) and the Òmnium Cultural, which has lasted for more than three years, "despite the fact that they should never have be imprisoned ".
Amnesty, which already regretted last year the judgment of the Supreme Court condemning two to nine years in prison for sedition, now urges the three branches of the state to "correct the effects" of a sentence it judges "unfair" and "contrary". human rights ".
Thus, he asks the Constitutional Court to resolve "as soon as possible" the appeal for amparo lodged by Sànchez and Cuixart and asks the government to treat "as soon as possible" the pardons for both.
This although, according to Amnesty, the pardon "is not the ideal solution", because it supposes the forgiveness of the sentence but not of the crime. "Any measure which means putting an end to the injustice of his imprisonment will be welcomed by Amnesty International," said its director, Esteban Beltrán, however.
Call for reform of the crime of sedition and the third degree
In addition, the entity calls on the legislator to reform the crime of sedition, claiming that it "violates the principle of legality". This criminal typology, says Amnesty International, is "loosely defined" and has been "widely interpreted by the Supreme Court".
Therefore, they warn, "this could open the door in the future to further criminalization of acts directly related to the peaceful exercise of the rights to freedom of expression and peaceful assembly."
Finally, the organization refers to the prosecution's appeal against the third degree of prison, affirming that "the authorities must adopt all the measures in their power to advance towards the release of Jordi Sànchez and Jordi Cuixart".
"We hope that the Supreme Court will resolve as soon as possible the confirmation of the progression of diplomas authorized by the Catalan prison authorities, which would mean the application of a semi-liberty regime for Jordi Sànchez and Jordi Cuixart", a Beltrán concluded.