Technology
Another night of riots in Santander leaves four inmates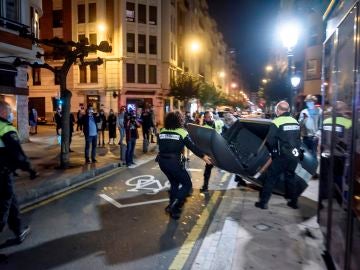 Posted: Sunday, November 1, 2020 8:41 a.m.
Four young people were arrested and an officer was slightly injured last night during further riots in Santander, where 50 people marched to Plaza del Ayuntamiento to rally against restrictions due to the coronavirus and, given the heavy police presence, they dispersed into the neighboring streets and burned containers and bins.
As reported by Cantabria's higher headquarters, three of the young detainees, including a minor under the age of 15, were arrested in the incidents in which the officer was injured.
The fourth was arrested by the local Santander police, after being recognized as one of the alleged perpetrators of the attacks on the police during the clashes that had occurred the night before.
For this Saturday, two concentrations had been called on the Plaza del Ayuntamiento against the measures to contain the pandemic of the governments of Spain and Cantabria, closed on the perimeter since Thursday evening. The first was scheduled for 6:00 p.m. but did not take place and the second at 11:00 p.m.
Half an hour later, a group of fifty young people marched into the square and, according to higher headquarters in a statement, although "the officers observed obvious signs that they were planning to attack them, they did not. did not and dispersed before the first sample of police reaction ".
After the altercations the day before, the national police, in collaboration with the local police, deployed a large device early in the afternoon in the center of Santander, in which the riot police of the Basque Country participated in reinforcement.
Cantabria's higher headquarters does not rule out further arrests after analyzing images and statements collected on social networks.