Technology
Anti-corruption investigates spending of kings emeritus with opaque credit cards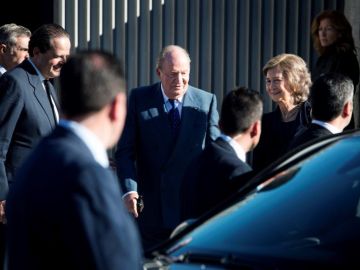 Posted: Tuesday, November 3, 2020 8:48 a.m.
Anti-Corruption is investigating spending on several credit cards used by King Juan Carlos, Queen Sofia and some of their grandchildren. Seemingly opaque cards, which were paid from an account in which neither the King Emeritus nor his family appear as holders, according to several sources close to the investigation confirmed to elDiario.es.
Among the people who have benefited from these opaque maps, there are not the current kings of Spain. Neither the Princess of Asturias nor her sister Sofía. But there are other direct relatives of the King Emeritus, whom Anti-Corruption follows.
The financial movements of this account and the expenses of these cards correspond to the years 2016, 2017 and 2018. In other words, they are after the abdication of King Juan Carlos since he lost his constitutional protection, which makes him makes it blameless for any crime committed up to the year 2014. But being later, the possible crimes in this irregular flow of money can be attributed to Juan Carlos I and the former queen consort. King Emeritus and Queen Sofia are evaluated, so this investigation, if successful, will be conducted by the Second Chamber of the Supreme Court.
In Anti-Corruption, they analyze not only all the expenses of these cards, but also the origin of the funds with which they were covered, since it is money coming from abroad. Spanish justice has sent letters rogatory to various countries to trace the origin of these funds, but the prosecution has already found clues of an alleged tax crime, since it concerns increases in unreported income more of 120,000 euros in a single year. Among the expenses charged to Queen Sofia's card are several trips to London, where the King's wife has maintained her habitual residence for years, add the aforementioned sources to elDiario.es.
According to sources consulted by this digital, the investigation also identified two individuals allegedly linked to this regime of opaque funds to pay the expenses of the royal family: a Mexican citizen and a commander of the Civil Guard.
The criminal indications on these cards are later and are not linked to the judicial investigation that came out of Anti-Corruption last June in the direction of the prosecution of the Supreme Court: these 65 million euros that Juan Carlos de Borbón d Saudi Arabia received in 2008 and that In 2012 he transferred his then lover, Corinna Larsen.
Supreme Court prosecutor handling 65 million Saudis case Juan Ignacio Campo plans to call for the case to be closed, according to various reports, as these are alleged crimes predating the abdication of the King Emeritus. However, this file request could include a detailed account of what happened which will clearly indicate that, had it not been for constitutional inviolability, the prosecution would have formally proposed the imputation of Juan Carlos de Borbón. before the criminal chamber of the Supreme Court.