Technology
Armengol denies being in bar at dawn, claims to have complied with anti-vacuum restrictions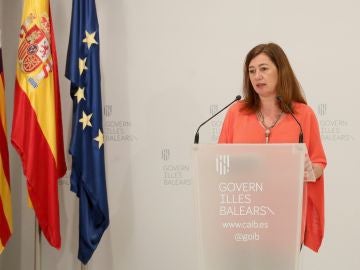 Updated: Thursday, October 22, 2020 3:31 PM
Published on: 10/22/2020 3:24 PM
The President of the Balearic Islands, Francina Armengol, has been accused of staying in a cocktail bar in central Palma beyond 1 a.m. in violation of restrictions due to the coronavirus.
The socialist assured that at no time had she violated the rules on October 7 and clarified that she was outside the premises after closing time due to the fainting of a member of his team.
The Balearic government issued a statement in which it explains that on the night of October 6, the president organized a working dinner on the terrace of a restaurant in Palma near her home with advisers Pilar Costa, Iago Negueruela and Marc Pons, as well as with the head of his cabinet, Quim Torres, and with the director general of communication, Álvaro Gil.
After dinner, on the way home, Armengol, Negueruela, and Gil found an open bar next to the President's house and entered to continue their conversation.
"Around 1:00 am", the deadline for opening restaurants, the three were preparing to leave the establishment and, upon their departure, the director general of communications suffered "fainting caused by the drugs he had. received since that same week. for anxiety at work, "detailed the government.
Because of this, the president and the advisor stayed on the street next to the bar to help their partner, which is why they were there when a local police patrol arrived and explained the situation.
"If there was an action by the local police in Palna in the establishment, it did not occur when the president and her companions were in the premises," said the executive in his statement. "The presidency of the government regrets the events that have taken place and their use for partisan purposes," the note concludes.
This is a version that was confirmed by the owner of the bar where the events took place, who assured that one of the people accompanying him had passed out in front of his premises about 15 minutes later at 1:00 a.m. morning. closing.
The person who suffered the blackout, and according to the account of the owner of this business, spent half an hour being treated in the street, until his departure around 1:45 a.m.
Alejandro Rodríguez, owner of 'Hatbar' in central Palma, explained that the president is a "neighbor", who frequents her place and that that night she was with a group of about six people, from just after eleven at night until shortly after one.
He clarified that he left a door to his bar open after one night so that he could provide any help, such as a water bottle they asked to give to people with dizziness to drink, but that he did not there was no one in his place. after 01:00, as established by the autonomous anti-vacuum regulation.