Technology
Asturias, Castilla y León, Ceuta and Melilla to ask Health to authorize house arrest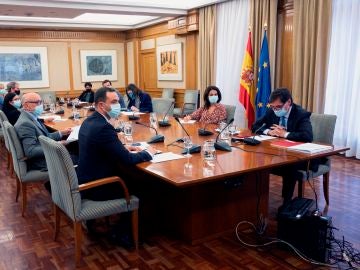 Madrid
Publication: Wednesday, November 4, 2020 11:50
The government and the autonomous communities are meeting this Wednesday with two crucial questions on the table: the duration of the perimeter closures and the possibility of decreeing home confinements.
As laSexta has learned, Asturias, Castilla y León and the autonomous cities of Ceuta and Melilla will ask Health to legally allow the possibility of confining homes during the Interterritorial Health Council.
A measure that the Minister of Health, Salvador Illa, rejected on Monday, while yesterday, Tuesday, Vice-President Carmen Calvo and the spokesperson for the Minister, María Jesús Montero, urged to wait for the results of measures currently in force.
Precisely on Tuesday, the minister rejected the Principality's request, asking to "allow time to see the effects" of the restrictions in force.
From Moncloa they signal this Wednesday to LaSexta that they will listen to this request, but for the moment they feel that it is not a decision to be taken in the short term and they insist on waiting until November 9, when 15 days of the state alarm are completed, to see the fruits of the restrictions already in place.
Seven-day term for perimeter closures will be discussed
Another issue that the executive and the autonomies will address is the deadline for the perimeter closures of the regions, which, according to the state of alarm decree, must last at least seven days.
This is to prevent what happened last week with the Community of Madrid from happening again, which was not marked by closing only during the days of the Todos los Santos and Almudena bridges.
Illa and the head of territorial policy, Carolina Darias, will chair the meeting with the regional health advisers from 4:00 p.m. Moncloa reported that ministers will appear at the end.