Technology
Ayuso announced in March that she would open the intensive care units at Infanta Sofía Hospital, but eight months later they are still closed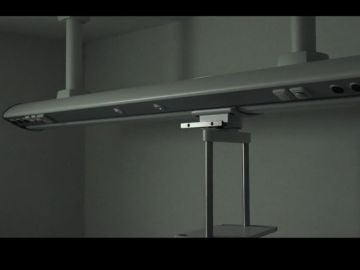 Updated: Monday, November 9, 2020 11:27 AM
Published on: 11/09/2020 11:25 AM
On March 24, 2020, barely 10 days after the start of the state of alarm and in the midst of the first wave of the pandemic that was ravaging – and ravaging – Spain, journalist Antonio Maestre posted on LaSexta images of 'an intensive care unit at the Infanta Sofía hospital, in San Sebastián de los Reyes, fully equipped and yet closed.
Then, the president of the region, Isabel Díaz Ayuso, crossed out the information as a "hoax", although she added that they would soon be opening these beds. Almost eight months later, the Salvados team showed they were still locked behind a padlocked door. "It was never opened because its utility was waiting to be used. And it came: now it will go from 8 COVID respirators to 22," Ayuso wrote in a tweet that day.
Also in March, the management of the health center replied to Antonio Maestre that, seeing that the beds were already needed, they would activate these rooms "in 7 days" and "on their own initiative. In fact, they said on March 24 that "in the next few hours" they would be taking patients. They later declined to respond again and showed particular interest in who disclosed this information to the media.
More than seven months have passed and these intensive care units are still closed, as Salvados verified. Both the Infanta Sofía hospital and the Community of Madrid refused to respond to Salvados in this regard.
Those who responded to Salvados, under anonymity so as not to suffer reprisals, are two workers at the said medical center. Both have over 10 years of professional experience and have treated COVID patients in the first wave. "Everything is ready," said one of them, who added: "This neighborhood has always been there, but we didn't know it was so endowed. It's like everything is done at the same time. , and this hospital is over ten years old, "added.
Could it be that such stays were prepared during the pandemic? "Any worker would have known," replied one of the health workers. Infanta Sofía Hospital has a total of 14 intensive care beds: eight before the pandemic and six more that were added when the worst COVID-19 hit. That's two less than the 16 intensive care rooms that are virtually prepped and unused under a padlocked door.
"It's hard to understand why new hospitals are being built in a hurry when there are closed factories almost ready to be used in other places," said Gonzo, the Salvados presenter, last night after posting. these shocking images. It refers to the Isabel Zendal hospital, built in record time and whose delivery was publicized with great fanfare.
Maestre, the first to reveal this information, was moderately satisfied when he saw the footage of Salvados showing what he had already denounced: "Sometimes this job is fucked up. I had to put up with 'journalists' who sided with the propaganda to defame me. But the truth generally emerges. Even if it takes time, "he wrote on Twitter.