Technology
Ayuso offers new pandemic hospital as 'main' warehouse for vaccine in Spain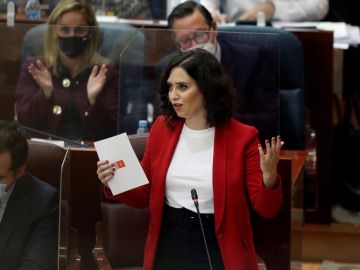 Publication: Thursday, November 12, 2020 11:49
Isabel Díaz Ayuso has announced that she will offer the new Isabel Zendal Nursing Hospital in Valdebebas as a "main" warehouse for the coronavirus vaccine that will arrive in Spain.
This was indicated this Thursday during the Plenary of the Madrid Assembly, where he defended that, in this way, it can be stored in "optimal conditions" and close to Barajas airport.
"We are going to offer Zendal as the main warehouse for the vaccine that arrives in Spain, so that it can be close to the airport in optimal conditions and thus continue to contribute to sharing the pandemic", he declared during of his response to the intervention of the deputy of Más Madrid Pablo Perpinyà.
The construction of this controversial health center, which the Community of Madrid plans to open "gradually", has sparked a heated debate, particularly over the question of the origin of its health personnel.
The Madrid Ministry of Health plans to feed this hospital for workers through a process of voluntary assignment of Madrid health professionals and, in the event that there is not a sufficient number of volunteers, by the direct assignment of workers hired this year to deal with the pandemic. Precisely on Tuesday, Madrid health workers demonstrated in front of the ministry for the transfer of staff to the new hospital.
The PP leader also announced other measures during the plenary session on Thursday, such as a new serological study in residences and health centers, faster tests or the establishment of virtual tracking.
The complex logistics of the vaccine
The president of Madrid made the announcement the same week that pharmaceutical company Pfizer announced that its vaccine was more than 90% effective. If it was ultimately the vaccine that reached our country – Minister Salvador Illa estimated that 20 million doses could arrive by the end of the year or early 2021 – its distribution and storage would entail some logistical complexity. .
And it is that the vaccine developed by the American laboratory and the German company BioNTech must be stored at 80 degrees below zero, although later it can be refrigerated at temperatures between 2 and 8 degrees for its transfer to the health centers.