Technology
Ayuso orders Madrid to close "on essential days" during All Saints' Day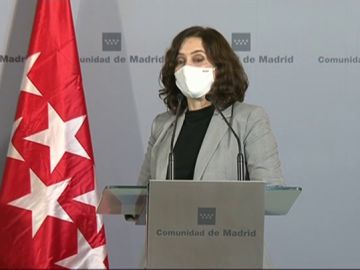 Updated: Thursday, October 29, 2020 12:48 PM
Published on: 10/29/2020 12:35
Díaz Ayuso decided to close the perimeter of Madrid only at the time of the All Saints Bridge. This is what he has just announced: "I have ordered the closure of the essential days of this bridge and of the one that is to come" e, reference to the fact that November 9 is a public holiday in Madrid, the Almudena .
Sources from the Community of Madrid tell laSexta that the area will only be closed during bridges, not the rest of the week. Therefore, the idea of ​​closing only the essential remains.
"This morning I decided to order the closure during the Bridge (of All Saints) but only for essential days and to do the same, in this way, the next day (Puente de la Almudena, from 7 to 9 November), "Ayuso says.
He assures us that other autonomous communities have already done it and "I hope that we are listened to to take intermediate surgical measures. Indispensable days for massive trips.
He insists that "flexible rules" are necessary and calls for dialogue "so that with these orders we can make the openings and closings of the autonomous communities more flexible because the pandemic will last a long time and there will be days when we will have to close one, two or not. do what ".
The regional president announced last night that she would ask Sánchez to authorize the closure for a few days, since the state of alert envisages the closure for at least seven days.
From the central executive today, they said they would not change this decree, and even so, Ayuso made the announcement to only close Madrid on essential days during the next two holiday bridges.
Announcement from Moncloa, they say they were "puzzled" and Ayuso is going to the point.