Technology
Ayuso pandemic hospital is already looking for volunteers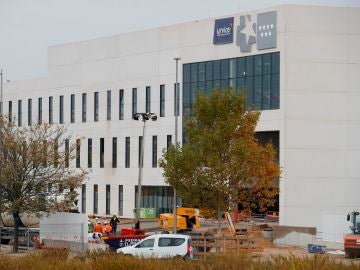 Updated: Thursday, November 12, 2020 12:44 PM
Published on: 12.11.2020 12:35
There is already a call from the Community of Madrid to fill the places for the nurse at Isabel Zendal hospital. Health personnel begin to receive the document requesting transfer to the new pandemic hospital. A voluntary transfer in principle but which could be forced if all places are not covered.
According to documentation laSexta has had access to, the deadline to cover the 669 positions begins today and health workers have until the 22nd of this month to apply. Of all these positions, 103 are physicians of various specialties and 247 are nurses.
President Isabel Díaz Ayuso's emergency hospital and main coronavirus measure need internists, pulmonologists, emergency physicians, intensivists, anesthetists and psychologists, while nurses will be assigned to conventional, intensive, intermediate and radiodiagnostic hospitalization.
The offer is supplemented by 179 auxiliary nurses, 60 nursing aides, eight physiotherapists, six social workers and a risk prevention technician, as well as other administrative and specialist profiles. In total, less than 700 people to start the hospital, of which 536 are rotational workers, a number that the unions consider insufficient. For example, only 49 intensive care nursing positions are being considered, while unions deem at least 61 necessary.
The document explicitly includes the voluntary nature of the transfer: "In accordance with the resolution of 11 November 2020, of the General Directorate of Human Resources and Labor Relations of the Health Service of Madrid, which proceeds to the staff of the hospital" L ' nurse Isabel Zendal "voluntarily requests her registration in the new hospital".
Ayuso offers it as a "warehouse" for the vaccine
This Thursday, President Ayuso proposed the facilities of the new hospital as a "warehouse" for the vaccine against the coronavirus, since it can be stored there in optimal conditions and close to Barajas airport.
"We are going to offer Zendal as the main warehouse for the vaccine that arrives in Spain, so that it can be near the airport in optimal conditions and thus continue to contribute to sharing the pandemic", he declared during of an intervention in control of the Assembly of Madrid.