Technology
Ayuso urges people to 'pull out the right thing' after refusing to close Madrid perimeter for days before otherwise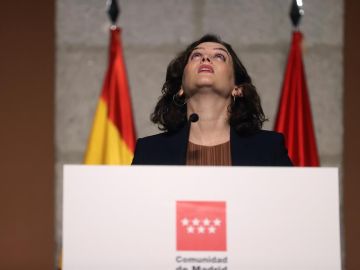 Posted: Thursday October 29 2020 10:38
The president of the Community of Madrid, Isabel Díaz Ayuso, called on citizens to "do the right thing" after refusing to close the region on the perimeter if the Sánchez government did not allow it for days.
"It is recommended, and this is their thing, that people be as little as possible in high traffic places, that they go out just enough, and that they really avoid the disturbing thing of private meetings, parties and university environments, "he said.
In an interview with Cope, he assured he was still assessing whether to shut down the Autonomy, with barely hours left until the All Saints Bridge begins.
Ayuso reiterated that she is in favor of shutting down for the minimum amount of time possible because she assures that she has "not a single health report" that says a perimeter closure improves containment of the virus, and she There are "many" who argue that "the smaller" are "closures, the better they work."
It is, he stressed, a bridge of "extremely high mobility", but it must be approached by taking "surgical measures", with closures of small areas most affected. "This is why we think that a small selection is better, not to close in thick lines," he stressed.
The Madrid leader once again defended that the best was to go to "selective confinements" and to locate the people who contaminate so that the others continue with their lives. For Ayuso, otherwise "it's going to be a ruin".
"If we have to close because others are closing, it is because we have been forced to do so so many times this summer, to take action because others were taking them," he said. At the same time, he indicated that the closure that the government imposed on Madrid, in the previous state of alert, did not work because it did not improve the situation.