Technology
"Before our appearance, the fascists were you"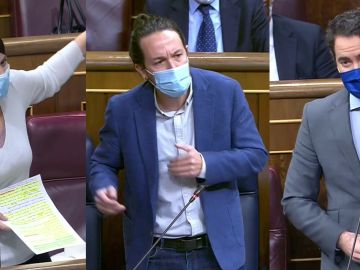 Posted: Wednesday October 28 2020 12:52 PM
The first session of government scrutiny after Vox's censure motion highlighted the tension between the PP and the far-right formation, after Pablo Casado "broke" last week with Santiago Abascal's party.
Precisely, the leader of Vox was not present this Wednesday in the hemicycle, an unusual absence in these sessions. It was MP Macarena Olona who criticized the popular for this shift, asserting that "the" no "to the motion of censure was a" no "to the existence of Vox".
"They added to the stigma of our constituents by classifying us as the far right in this chamber, how can they have this little shame?" "Before our appearance, the fascists were you for the left, and now we are Vox because we are the only opposition!", He added.
Olona alluded to the manifesto signed by several parliamentary groups – without the PP – against Vox, and accused the executive of trying to "distribute the card of democratic rights".
"Considering how they applauded Mr. Casado last week, both at the PSOE and at Podemos, we can get an idea of ​​what the only right is acceptable to you: this submissive, complacent, contemplative right, weighed down by corruption like you ", condemned.
Iglesias questions the moderation of the PP
However, the harsh tone between the popular and the executive has not disappeared, as evidenced by a new brawl between Teodoro García Egea and Pablo Iglesias, who insisted that the PP is "trapped" with Vox, with the support of which he governs in several autonomous communities.
"Although the allies of Vox dress in silk, the allies of Vox remain", came to affirm the second vice-president, who insisted on the idea that the PP and the citizens "are obliged to continue to govern and to compete with the extreme right ". .
his moderate speech lasted less than the army of Abascal "
Earlier, during one of his already usual confrontations in the Chamber, the PP secretary general accused Iglesias: "You are not Pepe Mujica, in fact you look more like a Russian tsar", he quipped. "If you were mine, today I would ask for my resignation, and that is called hypocrisy," he settled down.
"Listening to you now, it gives the impression that your moderate speech lasted less than Mr. Abascal's army," the United Podemos chief replied sarcastically, citing Casado himself when discussing the issue. motion of censure. , where he assured that the PP "does not want to be another party of fear, anger" or "fascist involution".
"Their problem is that they are locked up with Vox," reiterated Iglesias in turn to respond, in which he stressed that they "depend on them" to govern in certain regions and municipalities.
"They are trapped because with an extremely irresponsible ultra-nationalist speech, they gave wings to the extreme right. Today, this extreme right devours you, you and the citizens," he said concluded.