Culture
Beppo: artist, lively and the most flamenco English
Leaning on the counter, with one hand holding the glass of red wine and the other the cigarette. Listening to flamenco in taverns like Los Gabrieles or Villa Rosa, in Madrid, while remembering, perhaps, his artist friends from Montparnasse, his years with a Tunisian prince, or those he shared with the guitarist Sabas Gómez Marín. This is how the nights of Freda Marjorie Clarence Lamb happened, better known as Beppo: painter, lively, flamenco lover … This last love led her to treasure a collection of photographs of singers, guitarists, dancers … two of them taken by her friend Man Ray. That set of 275 images rests in the Córdoba City Hall and the rest of his legacy, his watercolors of olive trees, the nude drawings of Cordovan prostitutes, letters, documents, personal photographs, notebooks and, above all, an engraving by Picasso, two drawings of Modigliani and the easel that he used to paint outdoors are in the Cordovan town of Villa del Río. How did what the daughter of the conductor of the London orchestra had in her flat in Madrid got there?
Beppo was born on 22 June 1899 in the English capital and stand out because of how she drew ", says Antonio Lara, culture commissioner at the Villa del Río City Council (Córdoba) and a friend of hers the last 10 years of his life. At that time he was her companion, her confidant, the man who ran errands …
Beppo's mother enrolled her in an art school. "There, the mistress of one of his teachers spoke to him about Paris, but Beppo's father did not want to pay for the trip," adds Lara. So, he borrowed money from the school principal and, upon meeting the 21 years, he left. In the French capital, thanks to his London contacts, he began to meet artists and discover one of his passions, flamenco, through the shows run by promoter Salomon Hurot.
Over time, his friends of cante jondo give him dedicated studio photos, in black and white, in baroque poses, in foreshortenings in which the artists seem to have caught the duende. The snapshots range from the 1930s to the early 1970s and were taken in studios in Paris and Madrid, such as those in Campúa or Gyenes. Among those portrayed, one of his favorite artists, the singer Pepe el de la Matrona. Also, the guitarist Niño Ricardo, the bailaor Vicente Sender ("A Beppo, flamenco from head to toe"), Pepe Pinto … "The most flamenco English woman in the world, who perfectly blends the beat of flamenco art "Says another dedication. With this material, plus the sounds of Sabas Gómez Marín's playing, the Cordoba music producer Fernando Vacas is preparing an audiobook for the autumn of 2022, indicates Lara.
Beppo also collected friends in art: Peggy Guggenheim, Kiki de Montparnasse, Jules Pascin, who drew her naked; photographer George Hoyningen-Huene and Thora Dardel-Hamilton, "Swedish aristocrat, who gives him his first job as a cartoonist in a fashion magazine." "Thora was protector, along with her husband, of Modigliani and also financed her great friend until her last days of life in Madrid." Through the aristocrat, she meets a Tunisian prince, Abdul Wahab, a handsome watercolorist, a descendant of the last emirs of Almería. "They are going to live together in 1922 and marry in 1928, but four years later, a trip to Spain separates them ". Beppo had met Gómez Marín in Paris, "a guitarist who was not a gypsy, but an aristocrat," explains Lara. After both painters traveled to the Peninsula, Beppo stayed in Carmona (Seville), in love with Sabas, while her husband returned to Paris. However, the broken couple will always maintain a good relationship.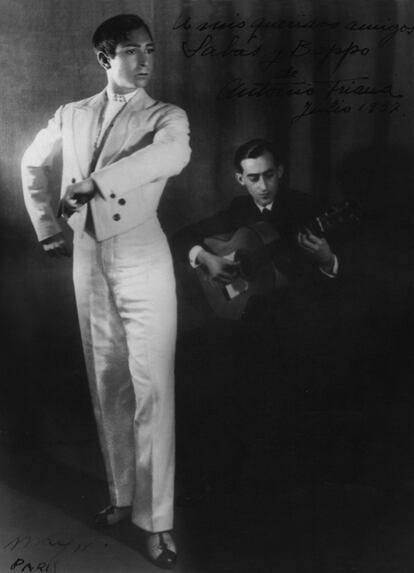 The character of this indomitable woman can be seen in an interview broadcast by the Basque channel ETB-2 in 1988, months before he passed away. While smoking and drinking wine non-stop, he declares: "I don't have time to get up or go to bed. I go to bed when I feel like it and get up when I want ". Wearing a red velvet beret and her peculiar English accent, she adds: "I have never lived one week the same as another, I have lived my own way." Likewise, he assures that he enjoyed Paris "of the good time." "But that of the belle époque I don't know what it is, we We did not say it, it is a matter for journalists. "
Precisely, this newspaper also knew their way of being. Following a report that included her among "the last bohemians," she wrote an indignant letter to the editor in which she stated that the text was full "of lies." "I've counted 16, and there are insulting opinions and nonsense bordering on the indecent ", he added. Other delights of his legacy are the notebooks, with a beautiful handwriting, in which he wrote words in Spanish and recipes, such as that of the snails ("clean them well, until they no longer foam").
When the Civil War broke out, Beppo was invited by the authorities to leave Spain. "They thought she was a spy," Lara says. After the conflict and with the Nazis at the gates of Paris, Beppo wants to return to Carmona with Sabas and he succeeds thanks to a letter of recommendation from a friend of his family, Jesús Raventós, Falange delegate in London, although the price is that convert to Catholicism. When he returns, he runs into postwar misery. "And he did not like that flamenco atmosphere of the young men treating the artists as scum for their parties." His friendship with Cardinal Pedro Segura, an unusual clerical voice against Francoism, served as his passport to Madrid in the mid-1940s.
He lives in a boarding house next to the Athenaeum and goes to Café Gijón, where She meets the one who will be one of her great friends, Pedro Bueno, a portraitist born in Villa del Río, and Rafael Zabaleta, an artist who encourages her to paint olive trees, the tree that had fascinated her in Andalusia. "She is related to the writer Eugenio Montes, a man of the regime, who helped her get into social gatherings and organize her first exhibitions." The opening was in Madrid, in 1957, to which others will follow in the capital and in Barcelona, ​​Córdoba, London… His friend Camilo José Cela wrote in the catalog of one that his painting drank from "three springs of very clear waters: Paris and his friends, his personal circumstance and the rhythm of the nature, which never tires of looking. "
The exciting life of this free spirit is tamed: he paints, gives English classes to senior executives, attends social gatherings, bullfights and, everything, hurries the nights of the rogue Madrid, who never know when they end. He does it sometimes in the company of banderilleros and flamencos, and sometimes with his many gay friends. At Café Gijón "he was on duty," commented one of his acquaintances. Sitting by one of the windows, she wrote her letters and sometimes drew. He also had detractors at a time when women had to be at home, according to the canons of that society. "It bothered them that a woman was there smoking, drinking and talking to men."
In 1961 receives the news that Abdul, depressed, has committed suicide. Thanks to Thora Dardel she goes to Paris to inherit works and objects from her ex-husband, among other jewels, three modiglianis (one sells it) and the picasso, " belonging to the collection of the Metamorphosis of Ovidio ".
Lara met her in 1979. "She came to my town with Pedro Bueno and, of course, she attracted attention. When I went to Madrid to live, it happened that my pension was next to his apartment. One day I saw her on the street, I introduced myself and we began to meet, to the point of seeing each other every day ". Lara remembers, laughing, the angry temper she sometimes used: "If you were late, it would make her feel bad. Once, a man she was meeting at a restaurant was late. He was carrying a bouquet of flowers and when he gave it to her she threw it and hit a lady on the head. "
At the beginning of 1989, Beppo is ill. The friends who cared for her convinced her to receive a notary at the hospital to make a will, but at the last moment she backed down. "He said that the following week, at his house, he would sort his papers." But that same night, on February 5, 1989, he died at 89 years . He had only left a few holographic last wills, scrawled in 1984: "No funeral, no religious ceremony". Lara highlights that Beppo had stated that when he died, everything would go to Villa del Río, except the flamenco photos.
For years, the legacy was kept by the depositary appointed by his friends through Pedro Bueno, who died in 1993, until 2004 could take over the Villa del Río City Council. In 2012 a documentary was produced, of which Lara was the screenwriter, in which the lives were told of Beppo and Abdul. Today, the Casa de las Cadenas, in this town, is the museum space that exhibits some 40 parts of the almost 130 that he treasures. Mostly watercolors, and some lithographs, all of olive trees, such as the magnificent specimen from a farm in Chiclana de Segura (Jaén) where his ashes were scattered when he died.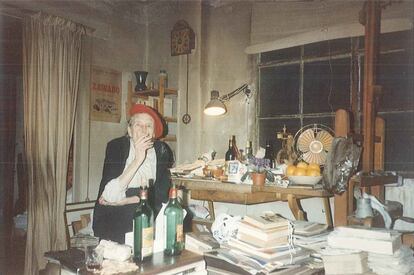 Log in to continue reading
Just by having an account you can read this article, it's free
Thank you for reading THE COUNTRY