Technology
Burgos approaches worst numbers of first wave with skyrocketing incidence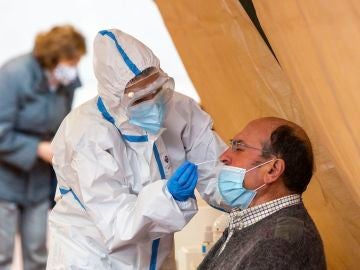 Burgos saw another dark day with numbers close to the worst of the first wave. As of Saturday, 596 new infections and five deaths were reported in hospitals. In addition, they have a cumulative incidence of 1,302.11 cases per 100,000 population over the past 14 days.
From the city council itself, they asked their neighbors to confine themselves, a containment that the government does not rule out either. On Wednesday, they announced the limitation of non-partner meetings to a maximum of three people in any area.
Also of concern is the positivity rate indicated by PCR tests currently being done in the province, with more than a quarter of these tests positive (26.18%).
Data from Castilla y León
Castilla y León has a total of 112,789 positive for the coronavirus, of which 1,587 are new, with 31 deaths reported in the last 24 hours (25 of them in hospitals and six in residences) and 240 other discharges, according to the data provided by the Ministry of Health.
Statistics for this Saturday record 25 deaths in hospitals. A total of 3,274 deaths have been recorded in this area to date in the Community. For its part, hospital discharges of patients admitted with COVID-19 now reach 15,331, after adding 240 more in the previous 24 hours.
There are currently 791 active households in the Community as a whole and the positive cases associated with them amount to 7,100. Among them, Avila counts 94, the same; Burgos, 72 years old, three older; León, 39, five younger than yesterday; Palencia, 63, two younger; Salamanca, 91, four younger; Segovia, 91, one more; Soria, 63, six younger; Valladolid, 205, nine more and Zamora 73, one more.
A total of 112,789 positive for COVID-19 have already been diagnosed in the Community in the different types of tests, after a day in which 2,052 more were added. According to data from the regional administration, 106,095 positives were diagnosed by PCR and antigen tests.
By province, Burgos is the one with the most positive points this Saturday, with 596 more and a total of 18,951; followed by Valladolid, with 386 more and a total of 25,427; León, with 308 more and 18,310 in total; Salamanca, with 215 more and 16,686; Zamora, with 207 and 6,930 in total; Palencia, with 167 more and 7,405; Ávila, with 67 others and 6,487; Segovia, with 56 more and 7,537 in total, and Soria, 50 more and 5,056 in total.
As for the number of deaths in hospitals with a diagnosis of COVID, the total figure is 3,274, 25 more than the day before. The major part is recorded in the province of León with 676 -three more-, followed by Valladolid with 667 -sept more-; Then comes Salamanca, with 550 – two more -; Burgos, with 369 – five more -; Segovia with 245 -the same-; Zamora 233 – four more–; Avila registers 211 -one more-; Palencia two more, up to 174 and Soria, 149 – one more.
In the case of registrations, a total of 15,331, 3,689 were calculated in Valladolid; 2,784 in León; in Salamanca 2,306; in Burgos 1984; in Segovia 1,132; to Avila 1,018; to Zamora 984; in Palencia, 821 and in Soria 613.
The situation in the residences
For its part, the number of inmates of homes for the elderly and disabled who died, according to data provided by the Ministry of Family and Equal Opportunities, amounts to 3,157 – 14 more than in the last published part. – in the 1,214 public and private centers for the elderly and public centers for the disabled.
Of the deceased, 2,052 correspond to positive cases confirmed by COVID-19, 14 more than the day before, and 1,105 others to died with symptoms compatible with the virus, a figure unchanged since June.
According to data provided by the Council, of the 3,157 people who died, 1,902 people lost their lives in their residence or center, six more than yesterday's data, while eight others died in hospital, for a total of 1,255.
A total of 47 residents are isolated with symptoms compatible with COVID-19, 12 fewer and 2,210 are in this situation preventively but without symptoms, 105 more.
Regarding the centers under the supervision of the Junta de Castilla y León, the death toll is 266 (one more), of which 149 with a confirmed positive, while 117 others presented compatible symptoms. In addition, 26 residents are hospitalized, nine fewer than the day before, and there are 888 users with confirmed COVID-19 positive, five more.
In contrast, there are no isolated residents with symptoms compatible with COVID-19 and 220 preventively isolated without symptoms, two fewer than the day before.