Technology
Carmen Calvo accuses PP and Vox of using "trilero arguments" not to support budgets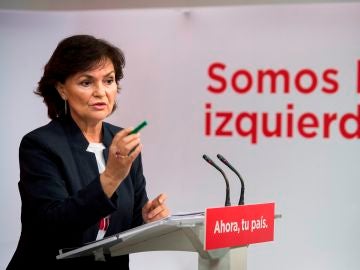 Posted: Saturday, November 14, 2020 2:29 PM
The first vice-president of the government, Carmen Calvo, accused the PP of having established "lines of unbearable instability" when it loses the elections and does not govern and does so, she stressed, at a moment when Spain is going through a very serious crisis due to the pandemic.
In statements to the media from the PSOE headquarters, Calvo criticized the PP that if other political forces have responded to this call for "coordination and unity" that the country needs, Pablo Casado's party is installed. "in irresponsibility", also recalling that over time, they concluded agreements with EH Bildu and Vox.
For the vice-president, the arguments that the rights use to get out of the budget "are trileros" and have nothing to do – he says – with the reality of politics, neither with stability or with governance ", in which there is a progressive coalition government backed by the PSOE ".
The vice president insisted that what she must do now is "unity, responsibility and being in the reality of the problems that people accumulate". After this week, the executive managed to overcome the first parliamentary procedure with note when the seven amendments to it all were presented, with the support of Cs and ERC and Bildu.
After making sure that the goal of the PP and Vox is that Spain does not have new budgets, Calvo said they are urging "more than ever" accounts that address "the many problems that the crisis is facing. pandemic has brought ". and can look to the future.