Technology
Casado asks the government "to explain what was agreed with Bildu" within the GEP "out of respect for democracy"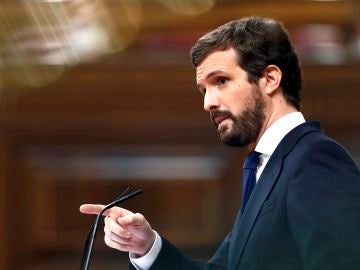 Publication: Wednesday, November 11, 2020 3:41 PM
People's Party chairman Pablo Casado asked the government to explain the details of the deal reached with EH Bildu, a group led by Arnaldo Otegi, "out of respect for democracy".
This has been said of the congressional platform, in defense of the entire amendment that the People's Party has registered, calling for the return of the General State Budgets (EMPs) that kick off the parliamentary process.
Casado addressed both President Pedro Sánchez and Finance Minister María Jesús Montero, who, in defending the PGE project, also disfigured PP and Vox their position contrary to these "national budgets".
"Madame Montero, to say that these are country budgets when they bear the seal of Bildu and ERC, and the most radical party that is part of a European Union government like Podemos, I think it is not the best definition ", he criticized the president of the PP looking at the Minister of Finance.
Casado also recalled that a year has passed since the general elections of November 10, from which this executive was born, and denounced the "triple" economic, social and health crisis in which Spain is now plunged.
Additionally, he said his roster does not understand why Sánchez is "not taking the lead in this second wave", or why "he continues to be housed in the CCAA and has not given an explanation. on the alarm state ". More go to Parliament and less "Sunday homilies", the head of the PP told the president of the executive.
Casado also severely criticized the reduction in VAT on masks announced by the finance minister during the debate: he accused the government of throwing out "lies" because "until a few hours ago they said that they couldn't lower the VAT on the masks because they would procrastinate. and they keep it for another cut six months later. "