Technology
check if your street is in a restricted area in Madrid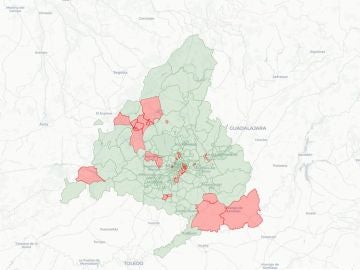 Posted: Friday November 6, 2020 1:11 PM
The Community of Madrid this Friday extended the restrictions to stop the coronavirus to eight new municipalities: all of Collado Villalba, Galapagar, Morarzarzal, Alpedrete, Chinchón, Villaconejos, San Martín de Valdeiglesias and Pelayos de la Presa.
There, the measures will take effect from Monday 9 November at midnight, in principle for 14 days, until 22 November. In addition, restrictive measures are maintained in the 35 basic health zones in which they were already in force, to date.
In total, the limitations imposed by the executive of Isabel Díaz Ayuso to contain the pandemic affect 835,051 Madrid residents, which represents 12.5% ​​of the region's population.
On the map that accompanies these lines you can check if you live in any of the affected areas. To check if your street is in one of them, just click on the magnifying glass and enter the street in the text box that will open. The map will direct you to the chosen location. To refine the search, you can add the municipality, for example: "María Zambrano, Getafe".
If you are browsing from our application, you can zoom with the "+" and "-" buttons.
In the case of Collado Villalba, the measures that were already in place in the health zone of Collado Villalba Pueblo in Sierra de Guadarrama and Collado Villalba Estación are being applied, which surrounds the entire municipality.
For its part, Colmenar de Oreja already had restrictions, but now Chinchón and Villaconejos are added, which on the map are included in the health zone of Colmenar de Oreja. In the health zone of Manzanares el Real, colored as restricted, only the municipality of El Boalo is affected.
What are the measures?
In all affected areas, perimeter containment is imposed which restricts entry and exit except for justified reasons. In addition, the capacity of places of worship is reduced to a third and in the wakes there can only be 15 participants if they are outside and 10 if they are inside.
Commercial establishments cannot exceed 50% of the capacity. In the hotel industry, there is no bar service and the capacity is halved both indoors and outdoors.
The capacity limited to 50% also applies in academies, driving schools and private non-regulated education centers, as well as in indoor sports facilities (60% in outdoor spaces). When the exercise is done in groups, it is limited to a maximum of six people and public play areas are closed.