Technology
Check on this map if your street is between the confined areas of the perimeter of Madrid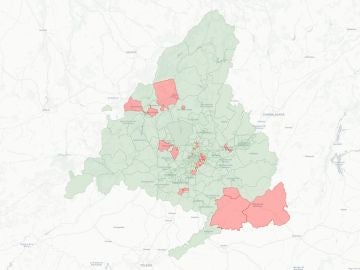 Posted: Monday October 26, 2020 11:05 AM
A total of 32 basic health zones in Madrid are confined within the perimeter as of Monday and also have more stringent capacity restrictions than those applied in the rest of the region.
In these areas – where 671,259 inhabitants of Madrid live, 10% of the population of the Community – 15.5% of the total cases detected during the last 14 days are concentrated, making a total of 4,223. To set the restrictions , an incidence rate of 500 cases per 100,000 inhabitants was established, decreasing it compared to the 750 cases which existed previously.
Thus, it is not possible to enter or leave the 32 affected areas except for "sufficiently justified" reasons such as participation in medical consultations, for professional or school reasons, return to the place of residence, 'assistance and care for the elderly, minors or dependents, or other causes envisaged in the community decree such as attendance at examinations or legal, administrative or banking proceedings.
It is possible to cross these areas as long as the origin and destination of the movement are an area not affected by the restrictions, and its inhabitants can move "always respecting individual and collective protection measures".
You can check if your street is in one of the affected areas, for that you just have to click on the magnifying glass and enter the street in the text box that will open. The map will direct you to the chosen location. To refine the search, you can add the municipality, for example: "Planeta Neptuno, Parla".
If you are browsing from our application, you can zoom in with the "+" and "-" buttons. In addition, you can click on each area to see the latest information available on infections or cumulative incidence.
Of the 32 affected areas, 19 correspond to nine districts of the capital and thirteen to eleven other municipalities of the Community of Madrid.
Affected areas in the capital of Madrid:
Nuñez Morgado, in Chamartín Guzmán el Bueno, in Chamberí San Ándres, San Cristóbal and El Espinillo, in Villaverde Entrevías, Peña Prieta, El Pozo del Tío Raimundo, Alcalá de Guadaira, Rafael Alberti and Numancia, in Vallecas Daroca, in Pavona-Linito and in Numancia Vandel, in MoratalazPuerta del Ángel, in LatinaBegoña, in FuencarralInfanta Mercedes and Villaamil, in Tetuán
Municipalities of the Community of Madrid:
Collado VillalbaGuadarramaMajadahondaVillarejo de SalvanésColmenar de OrejaMorata de TajuñaEl BoaloIn Pozuelo de Alarcón: the region of San Juan de la CruzIn Torrejón de Ardoz: the borders and the BrújulasIn Parla: San North Blas and the Colmenar-Viejo: in Coljo
Also, in these areas you cannot use the playgrounds, although they can be used in the rest of the Community. Hotel and restaurant establishments have a capacity of 60% abroad and 50% indoors, and bar service will be prohibited; In addition, they will not be able to admit new customers after 11:00 p.m. and will have to close at 00:00 a.m.
Both indoors and outdoors, the tables must keep a distance of 1.5 meters and the maximum occupancy per table must not exceed 6 people. In gaming and betting sites, the same capacity and time limits are maintained.
Concerning the stores, the capacity cannot exceed 50% and they must close at 10 p.m. except for essentials, such as pharmacies or medical centers. In places of worship, one third of the capacity cannot be exceeded, ensuring the minimum interpersonal distance; in the wakes, there is a maximum capacity of 15 people outside and 10 inside, "whether they live together or not".
The capacity of academies and driving schools is reduced to 50%, as in indoor sports facilities, although outdoor sports can reach 60% capacity. After 14 days, the behavior of contagions in these areas will be assessed to see if restrictions continue to be enacted or not.