Technology
check this map if your street is still affected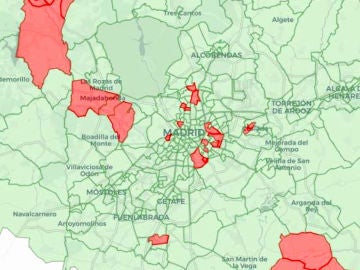 Posted: Monday November 16 2020 09:19
The Community of Madrid lifted, from 00:00 on Monday, restrictions in ten areas of basic health after showing "a marked downward trend" in the incidence of COVID-19, but limitations remain in 31 areas until November 22.
With this, normality returned to the base areas of El Espinillo, San Andrés and San Cristóbal in the Villaverde district of the capital; the regions of Rafael Alberti and Peña Prieta in the district of Puente de Vallecas and the region of Vinateros-Torito in the district of Moratalaz; in the regions of Brújula and Las Fronteras in Torrejón de Ardoz; that of San Blas in Parla and the region of Guadarrama.
In these ten areas, "a consolidated reduction of 50% or more in the cumulative incidence at 14 days was observed, as well as a marked downward trend" in COVID-19 infections, according to the order that the Community from Madrid published in BOCM this Saturday.
However, due to the risk of contagion, restrictions are maintained in 31 basic health zones until 00:00 on November 23, and can be "extended if the evolution of the epidemiological situation requires it".
The 31 areas that remain restricted in the capital Madrid are Núñez Morgado (Chamartín), Guzmán el Bueno (Chamberí), Entrevías, Pozo del Tío Raimundo, Alcalá de Guadaíra and Numancia (Puente de Vallecas); Daroca (Ciudad Lineal), Pavones and Vandel (Moratalaz), Puerta del Ángel (Latina), Virgen de Begoña (Fuencarral-El Pardo) and the regions of Infanta Mercedes and Villaamil (Tetuán).
The whole municipality of Collado Villalba also continues with limited mobility; the areas of Cerro del Aire and Valle de la Oliva, in Majadahonda; San Juan de la Cruz, in Pozuelo; Painters, in Parla; Colmenar Viejo Norte; Morata de Tajuña; the regions of Doctor Tamames and Barrio del Puerto, in Coslada; and the municipalities of Galapagar, Alpedrete, El Boalo-Cerceda-Mataelpino, Villarejo de Salvanés, Colmenar de Oreja, Chinchón, Villaconejos, San Martín de Valdeiglesias, Pelayos de la Presa and Moralzarzal.
Check if your area is affected
On the map, a few lines below, you can see if you live in one of the basic health zones that continue with mobility restriction measures.
The areas affected by the restrictions are marked in red. You can move around the map and click on each area to see more information on the accumulated incidence and confirmed cases of COVID-19.
To check if your street is in one of these areas, just click on the magnifying glass and enter the street in the text box that will open. The map will direct you to the chosen location. To refine the search, you can add the municipality, for example: "María Zambrano, Getafe".
If you are browsing from our application, you can zoom in with the "+" and "-" buttons. Here is the map of the health zones currently affected by the new anti-COVID restrictions in Madrid: