Culture
Composer Luis de Pablo dies
He was the last great representative of the Generation of 51. The one that returned Spanish music to the avant-garde and modernity after the postwar period in Europe. Luis de Pablo (Bilbao, 1930) died this Sunday in Madrid at 91 years, reported sources close to the family. He was a more than prolific creator, with six operas (the last of which, El Abrecartas , is scheduled to premiere in February at the Teatro Real in Madrid) and a catalog that exceeded the hundred in various genres. He was part of the group that dared to resurrect music from the rubble in the 20th century, along with Cristóbal Halffter, Carmelo Bernaola or Antón García Abril.
He could be inspired by the sounds of the street or in the cackling of some pipes. In fact, when he lived in Ottawa (Canada) he composed a quintet thanks to the water that swarmed through the metal towards the street. With an attentive ear and in an absolutely musical neighborhood, like Lavapiés, where he lived – he was Joaquín Sabina's upstairs neighbor – he was filled with the African sounds or the rumbas that every Sunday, more or less at the close of the trail, came to him by the window.
There, surrounded by his 8. 000 books and their huge scores, Luis de Pablo concluded El abrecartas, his last opera, based on the novel by Vicente Molina Foix. You will not see it. Since it was programmed by Gerard Mortier without it being staged due to his death in 2014 and until late it was resumed by the theater, De Pablo did not stop warning that time was running out. Without drama, with the logic that biology gives and a lot of backwardness, he confessed six years ago to this newspaper: "I thought I would start bare-chested, then Gerard Mortier came to the Royal Theater and welcomed the project. But he died and I was left with a span of nose. It was left in a dead end; Other orders came in, paid for, and I pushed her away. They are apparently looking for the time to reprogram it, I just shyly dropped that I am 85 years old and not I know what can happen. I still have ideas, but you can give me a paparajote and I do not know what will remain, I am already a risk patient and older than the cough ", he said.
Old and with a curriculum Overwhelming behind him since he began in the early 1950s, he had a brilliant career, still subdued by the impact that the meetings in the German city of Darmstadt had on both him and his fellow generations. There they converged with the will to break the isolation that Francoism marked in culture, along with the great Europeans of their time. Spanish music came into the forefront thanks to creators like De Pablo, who assembled their radical and disruptive vision with names like Karlheinz Stockhausen, Luciano Berio, Luigi Nono, Iannis Xenakis, John Cage, Mauricio Kagel, György Ligeti or Pierre Boulez. All of them tried to rebuild on their land what the Second World War had devastated.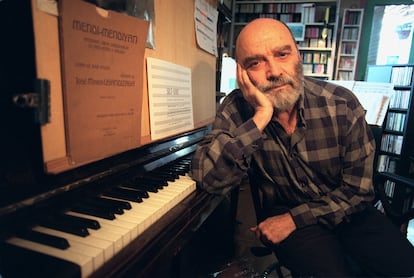 De Pablo became involved with many of them. And from the constant exchange and those dialogues that sometimes turned into brawls, he was plotting a work in which all genres fit. In 1959 he founded the group Tiempo y Música and later joined the Open Music, where Boulez is also present. In complicity with him, he explored electronic music and introduced it to Spain during the sixties. He travels around the world with constant stops in Eastern Europe and Latin America. But he also became a regular professor at American universities in both the United States and Canada.
The cinema provides him with a good way of life. He composes soundtracks for directors such as Carlos Saura, Víctor Erice, of whom he makes the music for El Espíritu de la Colmena , Francisco Regueiro or Manuel Gutiérrez Aragón, among others.
In the last few months I have been keeping an eye on the progress of The letter opener . Fabian Panisello, who will direct the opera, told him the latest news with a view to the premiere of what would be his second collaboration with Molina Foix in this genre after The indiscreet traveler, and also his I return to the Royal Theater after Miss Cristina , based on the novel by Mircea Eliade.
Poetry was a continuous source of inspiration. He visited Vicente Aleixandre weekly in Velintonia and was inspired by Pessoa Byron and the Generation of 27 for various works. He was recognized and awarded, member of the Royal Academy of Fine Arts of San Fernando and author of books such as An aesthetic approach to contemporary music, among others .