Technology
Conclusion of Pedro Quevedo by reminding Vox of his arguments: "You are fascists"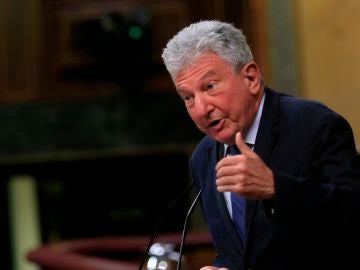 Posted: Wednesday October 21 2020 18:23
Nueva Canarias leader Pedro Quevedo was applauded by the socialist caucus after calling Vox MPs "fascists" in his speech to Congress to report on his party's position on the no-confidence motion presented by Vox against the government.
The MP was forceful in his statement: they will vote "no" on a motion which, he said, "does not even deserve elementary legitimacy" because its objectives "are not": "The aim of a motion of censure is to replace one government by another. Its objective is to put the second party in the chamber in difficulty. It is obvious, "he said.
In this sense, Quevedo asserted that the Vox deputies are "fascists": "If a party thinks that the 13 roses were murderers and rapists, that the elected representatives of the Republic were assassins, that whoever committed a coup and he kept us in the dark for 40 years. He was a liberator and this government is illegitimate, a coup and I don't know how many other things, there is only one conclusion: you are fascists. "
"It's the world upside down. Here you are the totalitarians," said the MP for Nueva Canaria, who was supported by loud applause from MPs from the two parties that make up the government.
Quevedo cataloged the language of the far right as "civil war" and "pro-coup" and claimed that "if they could, they would carry out a coup".
The deputy also mentioned the name of the pandemic by the Abascal training, which again became COVID-19 as the "Chinese virus": "If the dystopia they come to rule occurs, they will declare war on China".