Technology
Constitutional Court says inciting to burn flag is a crime, not freedom of expression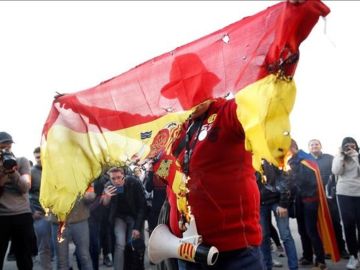 Posted: Tuesday December 15 2020 20:17
A plenary session of the Constitutional Court divided into two blocks approved with a single vote of difference a sentence which establishes that contempt of the Spanish flag is not protected by freedom of expression.
This sentence therefore declares that it is a crime to insult the flag and expressions such as "Here you have the silence of the fucking flag" or "the fucking flag must be set on fire", pronounced by Pablo Fragoso, head of the Inter-Union Confederation of Galicia (CIG) in 2014.
With this decision, the appeal for amparo presented by Fragoso, who called for the burning of Spain's "fucking flag", during a demonstration in front of the Arsenal Militar de Ferrol in 2014 is rejected. The decision was very close, with six votes for and five against, to approve the sentence.
The resolution is controversial since two weeks ago, the plenary rejected a presentation, promoted by the conservative Andrés Ollero, which proposed to acquit the trade unionist. Then, a new presentation was commissioned, which fell to the curator also Antonio Narváez, to collect the feeling of the majority, which understands that inciting to burn the flag of Spain is a crime.
The context of the events
The events occurred in 2014, when during the flag raising ceremony at the military arsenal in Ferrol, a group of people, including Fragoso, gathered outside the building to protest a labor dispute between service workers. cleaning facilities. The union member said with a megaphone: "Here you have the silence of the fucking flag" and "You have to set the fucking flag on fire."
The criminal court number 1 of Ferrol (A Coruña) sentenced him for these statements to pay a fine of 1,260 euros as the perpetrator of a crime of indignation with the flag in a sentence that was ratified by the court provincial of La Coruña.
And now the TC supports this condemnation by stressing that the expressions were not necessary for the wage demands that Fragoso, as a union representative, was defending and, moreover, were not linked to these demands.
These expressions, according to the court, were pronounced on the margins and without the protection of the fundamental rights invoked, so that it rejects that the freedom of expression and the ideological freedom of the trade unionist were violated.
Fragoso has always denied having said this and maintains that everything was "an invention of the admiral" head of the military arsenal.