Technology
Coronavirus infections climb to 20,986 in 24 hours, new daily high in Spain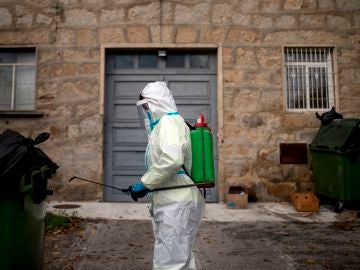 Posted: Thursday October 22 2020 19:03
Health has reported 20,986 new cases of the coronavirus. After adding more than a million since the start of the pandemic, Spain yesterday became the first country in the European Union to do so and today that figure continues to rise. There are already 1,026,281 infections since the start of the health crisis.
The ministry also reported 155 deaths in the past 24 hours. In total, this figure exceeds 34,000 deaths, more precisely 34,521. In addition, in the past 24 hours, daily admission records have been broken, for the third day in a row: 1,907 people had to be hospitalized for COVID- 19 the last day.
The Community of Madrid continues to be the one with the most cases. The Ministry of Health reported 3,696 new cases, 1,506 of which correspond to the last 24 hours and the rest to the previous days, and 43 deaths in hospitals, according to the report on the epidemiological situation.
The accumulated incidence continues to increase in most of the Autonomous Communities and in any case all are well above desirable figures. According to the latest Health Check, the region most affected in terms of cases in terms of number of inhabitants remains Navarre, which records 1,058 positive per 100,000 inhabitants. However, there are four other regions that exceed 500 cases of AI: Castilla y León (532), La Rioja (601), Aragon (629) and Melilla (883). In total, Spain has an average of 389 cases per 100,000 inhabitants.
Will there be a curfew?
With an epidemiological curve on the rise, the option of a curfew is on the table in conversations between the central government and the autonomous communities. Some have called for it, like Catalonia, which has called for a curfew to be enforced across Spain to stop the advance of the coronavirus pandemic from midnight to 6 a.m.
Sources close to the Interterritorial Council meeting told LaSexta that there is a clear majority on the part of the Autonomous Communities in favor of the curfew for all of Spain, but the legal instrument to implement it remains to be seen. to define. Thus, the measure would only wait for a legal instrument, whether it is on alert or not. In that sense, it will not be decided today, but there are many possibilities that it will be done.
In the event of consensus between the regional executives, the Council of Ministers will approve the specific measures (timetables, restrictions, exceptions) in a decree, in which it would even be possible to draw distinctions between the different territories. The measures could be adopted under the state of alert – regulated by Law 4/1981 – and in this case would have a validity of fifteen days. In addition, subsequent extensions should be validated by the Congress of Deputies.