Culture
Cristino de Vera: "In the Franco regime there was only pain without time"
He talks with God and with painting, with the canvases on which he draws, with the yellow voice of his brushes, with that Greco air that accompanies him in what he considers to be the last years of his age and of their life. But, when he was forty, he already spoke like that, and that's how he behaved, like a man at the end of the journey, or with fear, always the fear, of not finishing it. It is their way of seeking peace. He has also done it since he was a boy, and now, the next 16 of December, Cristino de Vera, born in Santa Cruz de Tenerife, will turn 90 years old and has lived in Madrid since his youth, when he warmed his body, or cooled down, before the El Greco canvases in the Prado Museum. It is like a figure in his paintings, his face is like his spirit, stylized, his eyes astonished, his dark clothes like the clothes of the trees that he paints. He continues to have before him those symbolic, Machadian plains, those windows that he has filled with mystery also by counting them. He is an unusual man, who during certain times of his life would interrupt passersby or ticket office to ask them about their happiness, their uncertainties or their memories. To the box office, he would say: "What do you remember at the end of the day?" And they replied: "Mouths, mouths, row twelve, row thirteen, mouths, mouths." On the pedestrian crossings, he asked passersby: "Are you happy?" And they fled like the weather. He is an unusual man who owes him the peace he is trying to find, especially to his wife, Aurora Ciriza, who assists us in this interview, made by questionnaire and then encouraged by her own voice at home, at the end of the corridor that seems the infinite journey of one of his paintings. We speak, among other things, of God, of Juan de la Cruz or of time, and of his generation, which is also that of Antonio López or de Grandío, born to art and life in the midst of Franco, where "there was only pain without weather". In his silences, and also in his words, a mystic speaks.
Question. His painting portrays the soul, time, what cannot be caught. Of everything you see, of everything you have seen, what remains in your soul?
Answer. Juan de la Cross. The sunrises and sets of the visible world and the solitude of the silence of the deserts of the earth. It has a wisdom, a mystique and a harmony that surpasses human understanding.
P. He has lived in Madrid for many years, and has looked for other skies, which he has painted. Are there indelible images that you have not been able to paint?
A. Yes, the most indelible is that of God, the creator of the universe.
P. His generation knew many ways of being of citizenship, since he was born under the climate of Francoism, in Tenerife and in Madrid. What was that period like?
R. At that time there was only pain without time.
P. And this time? What color would this era be?
R. We would have to confront our poor and limited language with divine calligraphy that turns everything into a silence of the greatest desert, which is deep solitude.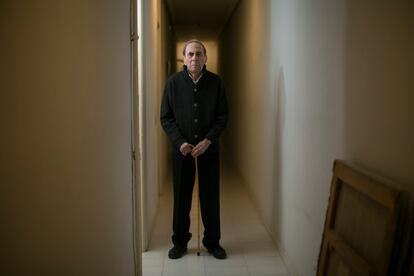 P. You are a painter, and you are also a poet. He also writes while painting, in a certain way. What cannot be said in what he writes or says?
R. I don't know how to talk about myself, I'm just a little air that wants to purify itself and I let others talk about myself. And I hope they are generous.
P. What would be your own metaphor of time?
R. They said that time was God's ally, something of his silence, of the deep dark night with the stars shining, and seeing the stars it is seen that time is infinite. And all silence of starry skies is the echo of the infinite peace of the desert where so many seekers went to look for the echo, the voice, the explanation of how time can, with the help of all the mysteries of the earth, lead us to search, to beg, the echo of the voice of the God of mercy. Always the mute harmony of silence, always the beauty of the things that surround us and purify our soul.
P. This is a very specific time, the pandemic. Have you been scared? What feelings have you awakened in the middle of the quiet city that has been Madrid?
R. I am always afraid. As Saint Francis of Assisi said, Sister Death … When I reach that threshold of mystery, silence and darkness, Sister Death, as he said …, only at that moment could I answer your question, with my weary spirit.
P. What would your questions be now, in addition, to yourself?
R. I have only asked God, the hidden one, the Buddha, if he lived, or Jesus the peacemaker, the kindest man who with his voice of pain and wisdom only spoke praying with his father who was in the heavens. Your questions have already been answered by the Buddha through Zen and the silence that caresses its air, or the harmony of Juan Sebastián Bach in Air, and the torn pain of Saint John of the Cross in The dark night of the soul cannot answer them piggyback.