Technology
curfew at 10 p.m. at Christmas and bars close at 6 p.m.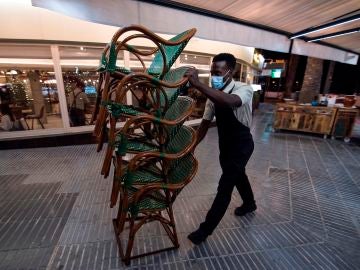 Publication: Monday, December 14, 2020 2:24 PM
Mallorca enters this Tuesday in an "extreme risk situation" in the face of the coronavirus and passes to the highest level of protection, on the 4th, so that during the Christmas dinners on December 24th, only a maximum of 6 people from two cores of coexistence different (for example, a grandmother and a child's family).
The bars and restaurants will be closed, at least for the next two weeks, at 6:00 p.m. on Fridays and Saturdays and the day before the holidays to avoid the famous "late".
At 10 p.m., also on Christmas Eve, all citizens of Mallorca must be at home, except those who have to move for professional reasons.
The Balearic Islands executive established five risk levels a few weeks ago (from 0 to 4) and Mallorca is going to the maximum, government president Francina Armengol reported on Monday at a press conference. Therefore, social or family gatherings are limited to six people, indoors or outdoors.
Bars and restaurants in Mallorca will not be able to have customers inside for the next two weeks and outside they will be able to occupy 75% of the available space with a maximum of groups of six people.
This measure in the hotel sector begins to be applied on Thursday. At the same time, the space available for customers in shops on the island will be 30% of the capacity of the premises.
The executive has imposed the maximum level of risk on Mallorca in the face of the progression of COVID-19 infections. Menorca goes from level 2 to 3 due to the increase in cases, Ibiza lowers its level from 3 to 2 and Formentera will continue to 1. At a higher level, more restrictive measures and vice versa.
The government will review this situation in two weeks, so that until December 28 these levels of protection are maintained, which could be in effect on New Year's Eve and the following days. Everything will depend on the levels of contagion of COVID-19.
In the case of Mallorca, at level 4 you cannot smoke in the streets or in public areas and outdoor sports groups and excursions should not exceed six people.