Technology
Download the COVID-19 mobility certificate valid for your community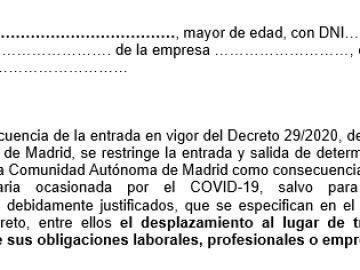 To cope with the increase in cases in Spain, regional governments have decided to reduce mobility between communities to what is strictly necessary. For this reason, they decreed perimeter limits in most of the communities to avoid contagion between the territories. You can check the communities that approved it in this link.
The presidents of the different communities, who have announced these days the closure of their regions, have set different start and end dates for the restriction. Therefore, each community has different validity periods.
Despite this, what applies to all citizens of these confined territories is the need to present a mobility certificate to enter or leave the community for professional reasons.
What is the proof of mobility
The mobility certificate is a safe-conduct which allows citizens to travel in specific situations. When limitations occur within municipalities, they serve as evidence to meet basic needs, such as returning to the place of usual residence, helping the elderly or attending a health center.
With regard to perimeter confinements, which mainly affect the Autonomous Communities, many of the transfers that are made are for professional reasons. In view of this, the document prepared by the Community of Madrid for these trips serves as a guide.
In these mobility certificates, the name of the person to whom mobility is authorized, the DNI, the name of the company and the place of residence of the entity must appear.
Fines for circumventing the perimeter lock
In communities where this restriction has been enacted, economic sanctions have also been instituted for anyone who does not comply.
In this sense, in the event that you leave your municipality without proof of mobility, the police and the civil guard could impose an economic penalty of between 600 and 60,000 euros. Just like the period of validity of this restriction, the amount of the sanction depends on the autonomous government of your region.