Technology
dumpsters overturn and throw stones to protest curfew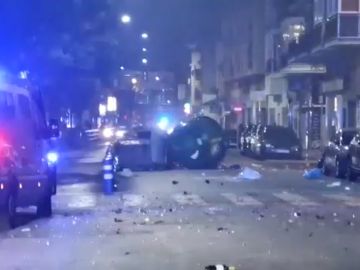 Posted: Sunday, November 1, 2020 12:14 AM
The altercations recorded in recent hours in Barcelona and Logroño, where there have been clashes between dozens of people and the police to protest the anti-vacuum measures to stop the contagion curve, are spreading to other towns in Spain. Among them, Malaga. More precisely, in the district of Huelin, where containers were overturned and objects were thrown at the officers.
As reported by " Diario Sur ", the demonstration, which began with a peaceful rally to denounce the curfew and the restrictions implemented to stop the spread of the pandemic, led to a radical demonstration in which to cut a road with barricades to later attack riot police.
Although they have already detained several people involved in the events and dissolved the concentration, the agents of the national police, with the support of members of the municipal police force, maintained the security apparatus deployed in the area to prevent it. to reappear. this group of people after the wave of violent protests that took place in Spain after the application of the curfew.
In Barcelona, ​​a group of people staged a pitched battle in Barcelona over anti-vacuum restrictions. There were 14 arrests and 30 people were injured, including 23 police officers. Right there, after kicking the glass at the entrance of a sports store, a group of young people walked inside and took bicycles and electric scooters.
A similar event took place in Gamonal, where two people were arrested for serious street disturbances overnight. In this case, the national police counted 400 participants in an unreported demonstration. And also in Logroño, a town in which a group of violent people infiltrated a demonstration against the measures and confronted the police with bottles and stones.