Culture
Emilio de Justo, successful bullfighter in Seville and Madrid: "I want to be with the best"
The bullfighter Emilio de Justo recognizes that he is still in a cloud after last October 2 he left for the third time in his career on his shoulders through the Puerta Grande of the Plaza de Las Ventas. He in the clouds, and the suit he wore that afternoon, in the hands of the tailor, who tries to rebuild the many damage ("blessed damage," says the bullfighter) that he suffered on his way, among a crowd of fans, towards the street of Alcalá.
De Justo arrived in Madrid to participate in one of the runs of the Autumn Fair (which ended this Tuesday) from Seville, where nine days before he had shaken the arches of La Maestranza – dressed in the same dress, bishop color and gold – with another undeniable triumph of two ears before a Victorino bull. Seville and Madrid, the two most important places in bullfighting, surrendered to a great bullfighter who is, above all, an example of resistance, effort and sacrifice.
"I am very excited because I have achieved the dream of any bullfighter, and I have not yet been able to put my feet on the ground ", he comments. "It is not easy to assume and digest so many emotions, but I have to return to reality and close the season in the best possible way."
After a few days of rest ("my body and mind needed it "), Emilio de Justo has returned to Sanlúcar de Barrameda, his place of concentration, where he has lived and trained since 2016, although his home family is in Cáceres. In a town in that province, Torrejoncillo, he was born 38 years ago with the name of Emilio Elías Serrano Justo. But the trip to the south has been full of good memories.
"Succeeding in Seville has been a unique sensation; one of the most beautiful afternoons of my life as a bullfighter ", says De Justo. "There I felt welcomed as if I were a Sevillian, and I felt the public's identification with me. La Maestranza is an insurmountable plaza that knows how to see bulls with very special bullfighting and sensitivity. "
" And a Puerta Grande de Madrid triumph is the greatest thing that can happen to those who dress in lights ", continues the bullfighter. "Because it's not just going out on your shoulders; it is to feel the square delivered, so emotionally and passionately. It's living something great. "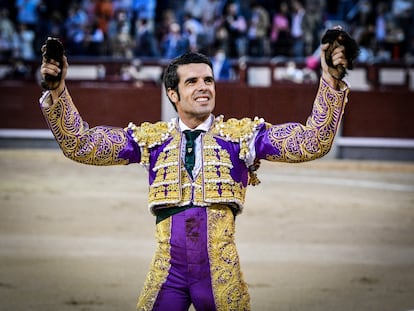 And both experiences have been enjoyed by those who are an example of resilience in bullfighting. Emilio de Justo took the alternative in 2007 and his particular journey through the desert lasted 11 years; He took refuge in Colombia, where he found friends and reasons to maintain the illusion; in France, where he took advantage of opportunities, and in his native land, where he had the help of his family. And so, among some doubts, with a strong vocation, a great capacity for sacrifice and an unlimited confidence in himself he endured until the 30 September 2018 smiled at the triumph he dreamed of with his first Puerta Grande in Madrid. "It is true that victory tastes better after such a long sacrifice. Tastes like a reward, yes. And it makes me feel proud of having been able to overcome such difficult stages ", he acknowledges.
However, he assures that his life has not changed with the triumph. "I continue with my usual routine, although it is true that my new situation strengthens me as a professional", he adds.
Question. The writer Camilo José Cela said that "in this country, the one who resists wins."
Answer . Can be. Resistance has been fundamental to being here today. There were many years in which I had to arm myself with patience. The vocation played a fundamental role so as not to fall prey to boredom. At times, I have thought that quitting would have been the easiest thing to do. This is a very tough profession, very beautiful and very thankless, too. But with me it has been fair; I consider myself privileged because I now occupy an important place in bullfighting.
P . How does a bullfighter feel when others consider him a figure?
R . It is very nice indeed. Figure is too strong a word, and the fact that I can be considered that way fills me with commitment and responsibility.
P . And do you consider yourself as such?
R . I prefer to follow my path, and improve and grow as a bullfighter.
P . And now that? Are you a modern figure that demands the most commercial livestock?
R . I want to be with the best, like any bullfighter; with the companions who are above and the most recognized herds; but I will never lose my identity. There are several herds with which I feel comfortable, such as Victorino or La Quinta, and I want to continue doing so. My goal is to be with the best and follow my line.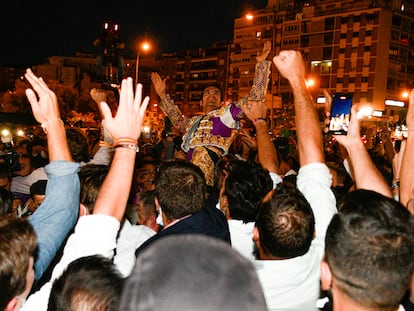 P . And all this without losing his concept of bullfighting…
R . Definitely. I try to base myself on classicism, on the purity and truth of bullfighting, which is what excites me. I intend to be able to translate my bullfighting to different settings with different registers. In any case, I am aware that to achieve consecration as a figure I must go one step further: to have a point of ambition and self-love that I now lack.
P . You said in a recent interview that you must work hard because you lack natural talent for bullfighting.
R . I have my strengths and weaknesses, like everyone else, but I consider that I was not born with the gift of ease to fight that others have. I will have something when I have triumphed in Seville and Madrid, but I have had to sacrifice a lot to be the bullfighter I dream of. And that is work, a lot of work, to improve and improve.
Emilio de Justo fights this Saturday in Jaén and closes the Spanish season on Sunday in Arenas de San Pedro. Later, he will be waiting for America, where he already has a fixed place in Cali and Manizales. Meanwhile, Sanlúcar de Barrameda, where he lives in a rented apartment, will be the stop and inn of a bullfighter from Extremadura who became a figure on his own merits after many years of ostracism.