Technology
German and British tourists return to Canary Islands after restrictions end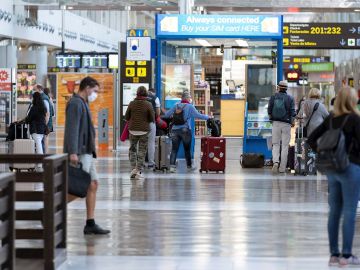 Updated: Saturday, October 24, 2020 5:07 PM
Published on: 10/24/2020 17:04
The schedule of arrival operations at Canary Islands airports for this weekend of flights from Germany increased by 50% and those from the UK by 12% compared to the previous week.
In this sense, the German country this Saturday lifted the restrictions for travelers returning from the archipelago and the British will do so this Sunday. According to Aena sources, in particular, 37 flights will arrive from German airports -21 Saturday and 16 Sunday-, 50% more. Of these, 13 will land in Gran Canaria, 11 in Tenerife South, 10 in Fuerteventura and 3 at César Manrique-Lanzarote airport.
For the United Kingdom, 73 arrival flights are planned – 38 on Saturday and 35 on Sunday – 12% more than the previous weekend.
In contrast, the forecast for arrivals of flights from Germany increased by 30% for the first week of November, from 61 flights from October 26 to November 1 to 79 from October 2 to 8. November.
As for flights from the United Kingdom, from October 26 to November 1, 149 arrivals are scheduled.
However, the companies are still in the phase of ramping up their programming to October 30, but they have not yet loaded them into the system since the announcement of the removal of travel restrictions to the Canary Islands on Thursday afternoon.
Aena indicated that since the announcements to remove the recommendations not to fly to the Canary Islands from Germany and the United Kingdom are very recent, this schedule could change in the coming days.