Technology
Government and eight other parties sign manifesto against far-right speeches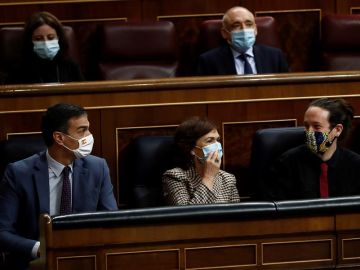 Updated: Wednesday, October 21, 2020 3:58 PM
Published on: 10/21/2020 3:19 PM
The coalition government and eight other parliamentary groups have signed a manifesto against far-right rhetoric and denial statements regarding the coronavirus pandemic.
"The racist, xenophobic, sexist speeches that we have heard so far in this legislature of the far right and the far right are incompatible with the values ​​of a democratic system and constitute a danger for coexistence", declare- they in the letter.
They also expressed their rejection of "negationist strategies and discourse concerning the pandemic caused by COVID19 and its consequences, because of its negative effects on health and citizen coexistence".
Faced with this situation, they say, they undertake to demand before the Presidency of the Congress "the opening of the corresponding infringement and sanction procedures, according to the Code of Conduct of the Cortes Generales", in the face of behavior which " violate the principles of vulnerability and respect ".
The presentation of this manifesto coincides with the first day of the debate on the motion of censure recorded by Vox. Specifically, it was delivered after Santiago Abascal's speech, which indicted unaccompanied minors, feminism and even the World Health Organization (WHO) itself.
The attached letter is signed by Bloque Nacionalista Galego, Candidatura d'Unitat Popular, Compromís, Esquerra Republicana de Catalunya, Euskal Herria Bildu, Eusko Alderdi Jeltzalea – Basque Nationalist Party, Junts per Catalunya, Más País, PSOE and Unis we can – In common Podem – Galícia In common.
Parliamentary groups who also wanted to show their solidarity with people who have been the target of "attacks and insults", including "members of the Congress of Deputies". A message of gratitude also for these "freedom fighters who fought fascism and whose memory has been despised".