Technology
Government denies Ayuso 'got away with' Madrid shutdown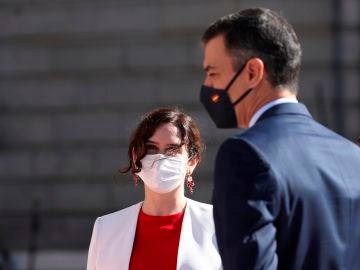 Updated: Friday, October 30, 2020 9:40 AM
Published on: 10/30/2020 09:26
The government categorically denies that Isabel Díaz Ayuso "got away" by allowing her to order the closure of the perimeter of the Community of Madrid for only a few days, which correspond to the holidays of All Saints and Almudena.
"Nobody got away with it. We have a system that allows the necessary coordination and co-governance," the interior minister said in an interview on 'RTVE' in which he recalled that "a decree royal state of alarm serves as a basis with the measures that all autonomous communities must adopt ".
But the truth is that this Thursday, after learning that Ayuso's executive wanted to declare a closure for four days – the duration of the bridge – the government denied this possibility and seriously asked the regional president. Carmen Calvo even accused her of "acting in a calculated manner to create confusion".
Although, a few hours later from Moncloa, they gave the green light that the Community of Madrid could only carry out a perimeter closure during the two bridges. Meanwhile, most regions were already decreeing (or had already decreed) regional closures for at least 10 days.
Nobody got away with it. We have a system that allows the necessary coordination and co-governance "
Despite this, Fernando Grande-Marlaska insists that his executive has not given in because "it is a decentralized country and it is one of its strengths". "The powers are transferred", he added in this regard.
For his part, the Minister of Justice assured in "Onda Cero" that "the letter and also the spirit of the organic law of the state of alert are respected", while acknowledging that "the situation is very different »According to each Autonomous Community.
While the Minister of Social Security, José Luis Escrivá, indicated in an interview on "RTVE" that "the state of alert gives flexibility to communities to decide what is the best way to establish restrictions". What he recognized is that "it is important to speak to the Interterritorial Council to organize the positions of autonomies".
In this sense, Marlaska announced that the Interterritorial Council of the National Health System will determine next week "the implementation of measures in adequate terms". "We do not have to convey confusion, everything is based on scientific analyzes and reports from scientific and epidemiological authorities," he said in this regard.
The government, he said, will go to this commission with the criteria determined by "the health authorities" and there will be transferred whatever they deem "convenient and opportune". He assures us that all the experts say that "the measures must have a temporary duration".