Technology
Government estimates 20,268 deaths in residences during first wave of coronavirus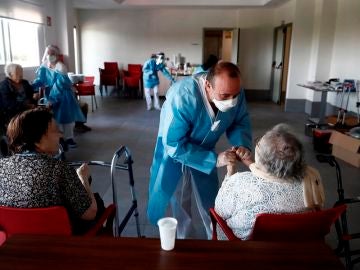 Publication: Friday, November 6, 2020 3:44 PM
During the first wave of the pandemic, 20,268 people died in Spanish residences. The second vice-presidency of the government thus figures the deaths in these centers, on the basis of data from the autonomous communities, although only half have been confirmed by serological analysis.
This is clear from the draft of a report put forward this Friday by 'El País' and to which the Efe agency had access, which admits that there is a lack of "sufficiently robust and homogeneous data between the territories".
The report, prepared by the Secretary of State for Social Rights, under the cabinet headed by Pablo Iglesias, is dated November 1, was sent to the autonomies and has contributions from the COVID-19 working groups.
From the data sent by the communities to Health, it is clear that until June 23, there had been a total of 18,883 deaths, a figure which was then "purged" by IMSERSO until reach 20,268.
Of all the people who died in residential centers, only 10,364 were serologically tested, while 9,904 deaths were reported as "with symptoms compatible" with the coronavirus, without confirmation, as there was not enough testing. diagnoses at the time.
6% of residents died
The report also says the total number of COVID-19 deaths in the first wave has not been determined and the closest approximation to June 23 would be 43,697 deaths from all causes, a much higher figure. to the 28,148 he is considering. the official record.
The second vice-presidency says in its report that between 47% and 50% of the deaths of the first wave were in residences. If this estimate is valid, underlines the document, the Spanish case would be in certain "intermediate parameters" for the first wave compared to other countries.
The information available also indicates that 6% of people admitted to shelters in Spain died, which is a "high impact" compared to that of other OECD countries.
According to the document, when measures were formally adopted to limit visits to residences (between March 12 and 18), the virus had already been introduced in many centers. "As of March 14, there were already at least 46,645 positive cases in Spain (they were later confirmed), of which more than 40% were in Madrid," the report said.