Technology
Government responds to PP to withdraw conditions and support six-month state of alert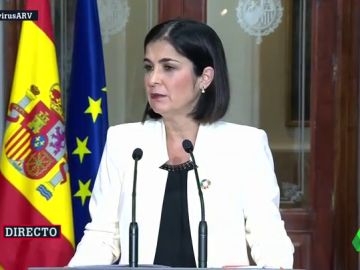 Updated: Monday, October 26, 2020 2:38 PM
Published on: 10/26/2020 2:13 PM
The government is insisting firmly within six months of the new state of alert. "The president was diaphanous, crystalline. This term obeys the criteria of experts and this government takes into account science", defended the Minister of Territorial Policy and Public Service. "The term is not fixed, but it will depend on the evolution of the pandemic. The state of alert will last for the time strictly necessary," added Carolina Darias.
This is the government's response, in the words of Minister Darias, to the position of the PP, which announced that its vote would be favorable on one condition: that the extension does not last six months. During a media appearance, Pablo Casado indicated that from the PP they demanded that it be limited for eight weeks.
"We appeal to common sense and scientific sense of all political forces. The PP must abandon its conditions and must replace these conditions with the recommendations of the experts. Six months with the commitment that the state of alarm would not be there for another day the time necessary ", added the minister at the end of the Conference of the autonomous presidents. The truth is that apart from the PP, the executive will proceed in a predictable way in Congress to the extension announced by the President Sánchez this Sunday.
Differences between CCAA leaders
However, some regional leaders expressed their dissatisfaction with the executive. This is the case of Núñez Feijóo, president of the Xunta, who maintains that the government arouses "alarm and mistrust" by questioning Christmas and Easter. "Talking about a state of alarm until May is devastating for Spain's reputation," added the Galician president after the meeting.
An attitude that García-Page, president of Castilla-La Mancha, does not share and does not criticize. "I ask for the right of this country to be Spanish in the face of the virus. I find it incredible that this is a problem for the right of Spain. The fight against the virus must be led by the Spanish government and the autonomies must be with the executive, "García-Page defended.
For her part, Francina Armengol, President of the Balearic Islands, considers "a useful tool" that the state of alarm can last six months. "It gives us the opportunity to reduce nighttime mobility to be able to stop the pandemic, that's absolutely enough," he said.
The same line that Javier Lambán, president of Aragon, has defended, which affirms that they will remain faithful and will not feed the debates on the hour of the state of alarm. "The decisions that the government must adopt will only have a loyal response from Aragon," said the regional leader.