Culture
He is no longer passing through to the Llanada Alavesa
Everything is at hand in the Llanada Alavesa, which translates into a privilege and a disadvantage at the same time. Privilege because this group (region) in the east of Álava, with the Argomaniz parador as a visitor's hub, is located an hour's drive from La Concha beach in San Sebastián, the Guggenheim in Bilbao, the Pamplonian Sanfermines or Burgos Cathedral, which allows day trips to these beautiful cities. And inconvenient because with these rivals so close, some tourists do not notice the local beauty represented in the Estíbaliz sanctuary, the old part of Salvatierra-Agurain, the Garaio provincial park or Vitoria-Gasteiz itself, a friendly and green city, designed for its inhabitants. But not all is said. La Llanada Alavesa presents a battle and sometimes wins. In recent years, young people have emerged willing to show the Romanesque of Alava to a demanding public; to explain why sheep's milk latxa produces that rich cheese that is Idiazabal; or to bring bicycles to where visitors are staying so that the impediments are other. A group of enthusiastic people from Alava who together with the parador –converted de facto into a tourist office– are helping this area of ​​passage to become a destination.
Gorka Azurmendi is one of them. Founder along with his brother of the Azkarra cheese factory a decade ago, he approached the inn to tell them that he had started making Idiazabal and that he also wanted to explain it. The cheese factory, located in Galarreta (a 20 kilometers from Argomaniz, where the parador is located, already very close to the Aizkorri-Aratz natural park), admits visits. Azurmendi does not boast of a reception room cuqui nor does it have a gourmet shop, it is a factory where there are animals, milk, rennet and cheeses. That is the order. "It smells like sheep but you don't stain your shoes," says this former heavy machinery driver, who in 2019 collected in Bergamo (Italy) the World Cheese Awards for the best smoked cheese in the world – the edition of 2020 is celebrated in November of this year in Asturias–. The visitor is greeted by a mastiff tied to a dirt and gravel road, not a glazed sentry box. The children shape the product and the adults, together with Azurmendi, monitor the optimum temperature of the milk. What comes out of there is a cured but unctuous cheese, although compact, intense; leaves an aftertaste in the mouth that continues on the way to the Estíbaliz sanctuary, if travelers have paid attention to the recommendations of any Alava.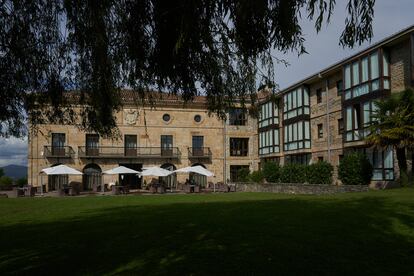 THE PARADOR AND ITS REGION
The church of Nuestra Señora de Estíbaliz, patron saint of Álava, was built at the beginning of the 12th century and is the most valuable Romanesque temple in the province (there are 260 that retain remains at least). As with the Camino de Santiago, let each one find their motivation to make a pilgrimage. The sanctuary is located at the top of a hill converted into a natural park and can be reached in an hour on foot from the parador, in 25 minutes by bike and three songs by car. The historiated capitals with representations of religious scenes are of great beauty, as well as the baptismal font. But there are those who come to the sanctuary – the enclave where it is located – through the island forest that surrounds it and who can walk in search of perretxikos (a small spring mushroom) or by the picnic area enabled for barbecues. Those attracted by art, history or heritage would do well if they stopped by the Pater bar –bar and association– and asked for Isabel Mellén or any of her colleagues with whom she has formed the Álava Medieval cooperative since 1978.
LA LLANADA AND THOSE WHO BUILD IT
Mellén, from 35 years, conducts guided tours and together with its three partners manages the Romanesque interpretation center, adjacent to the basilica of Nuestra Señora de Estíbaliz. Aware that a 12th century temple can be something very old or very awake and current, the conventional tours are complemented by others with a gender perspective because the sanctuary was founded by two medieval ladies. On weekends, they organize excursions to towns in the area, to which many people from Vitoria join, neighbors who had lived with their backs to the local wealth because it was too close to appreciate it. Mellén and the rest of his colleagues in their thirties lead visits to places they are still investigating, so today's explanations may differ from those of tomorrow – it is not just enough to know the lesson by heart. "Every time we have a younger and more demanding audience. There are those who know more than I do ", he jokes.
The town house
If the parador acts as a sprinkler for visitors through the Llanada Alavesa and the aforementioned capitals of its surroundings, the relationship that this late 16th century building has become hotel in 1978 with the residents of Argomaniz, the district of 182 inhabitants where it is located, is that friend who you don't talk to every day but who answers a call on the first ring. Rosa Elizondo and her daughter Itsaso Salsamendi, who live in the house across the street from time to time, say that a heavy snowfall about eight years ago left them without electricity and water. They couldn't get the car out so they decided to cross to the inn to have a coffee. They were so comfortable that they stayed to eat. They felt at home and spent the night there. It is good to know that in a town without shops or bars there is a building where the light never goes out.
EL PARADOR Y ARGOMANIZ
Like the day the Salsamendi couple arrived with suitcases and other belongings from Barcelona, ​​where they lived, to move to Argomaniz's house. Parador employees showed up at the door without constituting an invasion but a show of interest or concern. Neighbors are known and helped. The network is finished weaving when the hosted clients – from France or the Netherlands, from Madrid or Barcelona – come across Salsamendi, a sociologist by training, and her mother, a retired nurse, and ask them for recommendations. Zarautz and Getaria, two coastal cities of Gipuzkoa, emerge immediately in a new proof that the competition for tourist attractions that the Llanada faces is very high. They also name the closest municipalities of Alava such as Araia or Opakua, starting points for exits to the mountain.
3 DEPARTURES WITHOUT LEAVING THE REGION
Click on the three photos to discover leisure, cultural or outdoor plans a few kilometers from the parador.
The town of Argomaniz experienced a great change with the opening of the parador. It went from being a district without electricity, running water or paved streets, an uninhabited town "with two neighbors," says Manuel Quintana, the hotel manager, to an urbanization with 10 minutes from Vitoria where the houses of Labradors with sheepdogs gave way to chalets with pools and pet dogs. Alberto Fernández de Arroyabe, a farmer from 67 years he got on a tractor with 10 and has not yet gotten off, he is the only neighbor who was born in Argomaniz. "Don't say that," his wife says to take a little weight off him. "We used the parador, what was then known as an agricultural palace, as a barn," says Fernández de Arroyabe, who acknowledges that without the opening of this establishment, Argómaniz would have swelled the list of those towns buried by time. Potatoes, beans and cereals were stored in that old agricultural palace, a sample of what is sown in the Llanada Alavesa, this rich and rainy plain patched with crops that offers beautiful sunsets. Clouds do not cloud but provide texture.
As industrial as it is beautiful
The capital of this gang, as the seven regions into which it is divided are known in Álava, is Salvatierra-Agurain. This population of 5. 038 Inhabitants have a walled medieval town, which was declared a historical site in 1975. Industrial (the 26% of economic activity corresponds to the secondary sector, ten points above the average in Spain, according to the Basque Institute of Statistics), very pleasant to walk around, represents very well the type of tourism that attracts today and which is nothing more than the same one that prevailed before yesterday: pretty towns with well-kept streets and a wide and quiet square but with life where you can have a coffee while contemplating the church of San Juan Bautista or people passing by. A municipality through which the Camino de Santiago passes and whose rich natural environment allows routes on foot or by bicycle. Today it makes more sense to watch birds in a wetland than to stroke an elephant's trunk in a country with high humidity.
Another outdoor place where bikes abound, either from individuals or those rented by the Capital Bikes company and transferred to the inn or wherever necessary, is in the Garaio park. Located at 26 minutes from Vitoria now of the parador, it has the Ullibarri-Gamboa reservoir with a perimeter of 43 kilometers as a great attraction. It is so well cared for and so qualified for bathing – lifeguard included – that it has two blue flag beaches. The plan is to take a dip, walk along the shore, and eat and drink. This reservoir built in the fifties of the last century competes with the coastal cities of Gipuzkoa that can be reached from Vitoria on the so-called beach train. The sun, when it rises, burns the same everywhere.
THE BASQUE COUNTRY, IN TWO PARADORES
Credits
Writing and script: Mariano Godson
Photograph: Rich Linen
Design and development: Belén Daza, Juan Sánchez and Rodolfo Mata
Editorial coordination: Francis Pachá
Design Coordinator: Adolfo Domenech