Technology
Health does not rule out more restrictive measures for Christmas if the contagion curve continues to rise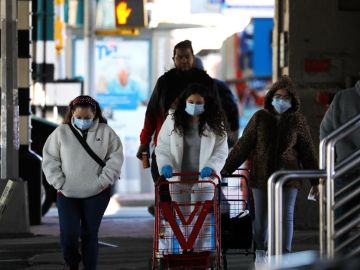 Updated: Monday, December 14, 2020 10:51 AM
Published on: 12/14/2020 10:33 a.m.
Health does not rule out taking more restrictive measures for Christmas, it will depend on the curve of the incidence of the coronavirus, which already underwent a slight rebound on Friday, the first since November 9, breaking the downward trend
Health sources at LaSexta assure that they will be "very aware" of the data provided on Monday, but that they will not take action on the curve of a day or three, but that if the upward trend continues more restrictive measures are not excluded throughout the week.
As to whether they will become like those announced by Germany, which from Wednesday closes schools and non-essential activities, they say Germany "is worse than Spain".
They recognize that it will cost people to comply with what is established in the Christmas plan, that is to say to limit travel to only family reunification and with relatives and to limit meetings and a maximum. from 10 people to two bubbles.
First cumulative incidence increase in one month
Spain added 10,575 coronavirus cases this Friday in the past 24 hours and 280 deaths. In total, the country has recorded 1,730,575 positives and 47,624 deaths since the start of the health crisis.
By territories, the Community of Madrid is the most affected, with 2,122 positives recorded in the last 24 hours. Later, Catalonia, with 1,764; the Valencian Community, with 1,460; Andalusia, with 1,192; and Castilla y León, with 656 cases.
The cumulative incidence also increased slightly for the first time in a month, from 188 cases per 100,000 inhabitants the day before to 189. It also increased in nine autonomous communities, while it had only increased by five in the previous day. standby. The Basque Country, Cantabria and Melilla are more than 250 cases.
The Canary Islands, meanwhile, have exceeded 100 cases, confirming an upward trend in the archipelago, since it has not reached this figure since October 5. According to the Health report, there are a total of 11,648 COVID-19 hospital patients, and 9.22%. Regarding the number of people admitted to the intensive care unit, the ministry specifies that there are 2,100, which represents 21.98% of beds occupied in intensive care.
By communities, La Rioja is the region most affected by the occupation of intensive care units, with 46.67%, followed by Asturias (36.18%), Castilla y León (33.02%), Aragon (32 , 31%), Euskadi (30.95%), Catalonia (28.69%) and Community of Madrid (25.23% of intensive care occupancy).