Technology
Health will recommend "leaving home if necessary", limit social contact and close shops at 10 p.m.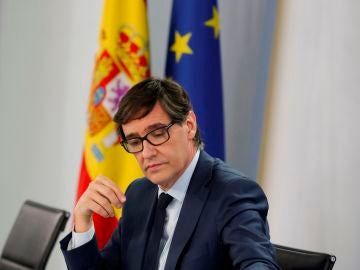 Leaving home "only what is necessary", limiting social contact, closing shops at 10 p.m. and recommending interaction in a stable coexistence group. This is the plan that Health is considering for areas where there is "uncontrolled community transmission". A document that Illa will present to the autonomies this Thursday to the Interterritorial Health Council and to which LaSexta had access.
This early intervention plan includes measures to ensure control of transmission and ensure a shared response. To do this, it sets specific parameters to decree four alert levels (level 4 being the maximum alert).
Currently, and according to the latest data published by Health, Navarra, Aragon, Castilla y León, Community of Madrid, Catalonia and La Rioja, in addition to Ceuta and Melilla, they would be on maximum alert (level 4). They would not be the only territories to know a worrying situation, Castile-La Mancha, Andalusia, the Basque Country, Asturias and Murcia would have a level 3 alert.
Exceptional measures and alarm state
For all, Santé indicates a series of mobility restrictions and exceptional measures. In addition, to avoid deviations from the curfew, it establishes for level 4 how the alarm state would be activated in the event that it is necessary to apply said restrictions. "The president of the autonomous community will ask the government to declare a state of alert, in accordance with the provisions of article five of organic law 4/1981 of June 1".
Thus, while awaiting the evolution of the pandemic, in these 11 autonomies (plus Ceuta and Melilla) a maximum of 6 people (not living together) will be established in the meetings and it is recommended to stay at home and to "go out only as much as necessary ". The ban on smoking on terraces and on public roads is maintained (when it is not possible to maintain a safe distance).
There are more, at level 3 and 4, it will be valued to limit the hours of shops until 22:00 and discos and nightlife places will be closed. In addition, in bars and restaurants, the health authority must assess the closure of interior spaces in establishments, and failing that, reduce capacity to the maximum possible.
As regards the workplace, it will be instituted "to go to work exceptionally for specific activities or meetings", thus promoting teleworking. Regarding vigils and burials, the capacity will be limited to 1/3 in closed spaces (maximum 10 people) and to 20 people in open spaces. In addition, faced with weddings, baptisms and communions, it is recommended to postpone their celebration until the epidemiological situation improves.
Important aspect that Health introduces, compared to the last project: in order to consider reducing the alert level of a territory, the indicators will have to remain at a lower risk level for a minimum period of 14 days.
To date, only Galicia is at level 1 (low) and there is no territory in a situation of new normal. You can check the alert level in each CCAA in the following table:
But what indicators determine the level of alert for each territory? Health fixed in this document, pending approval by the Interterritorial Council, of certain parameters for decreeing these four alert levels.
For this, two key aspects will be taken into account: the level of transmission (block 1) and the occupation of health services (block 2). Within these two blocks, five risk levels are established: extreme, high, medium, low and new normal.
Concerning the level of transmission (block 1), the following elements will be taken into account: the cumulative incidence in 14 days, the cumulative incidence in 7 days, the cumulative incidence of people over 65 in 14 days, the overall PDIA positivity per week and the percentage of cases with traceability.
Concerning the occupation of health services (block 2), the occupation of hospital beds due to COVID-19 and the occupancy of ICU beds due to cases of coronavirus will be measured.
Thus, depending on the data and figures for each of these blocks (reflected in the following table), the territory's alert level will be determined, which will result in a series of restrictions and specific measures to be applied.
Alert Level 1 will be determined when at least two indicators from Block I and one from Block II are low. The next level (2) will be established with two or more indicators from Block I and one from Block II at the intermediate level. When a minimum of two of the indicators of block I and one of block II are at a high level, the territory will be at alert level 3. The maximum alert (level 4) is reached when two or more indicators of Block I and one of Block II are at a very high level.