Culture
"Honoris causa" to the imagination of Peridis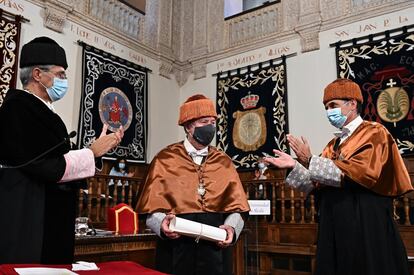 The different talents that coexist in Peridis were fighting this Tuesday to win the doctorate honoris causa awarded by the University of Alcalá de Henares. The proposal had come from his colleagues at the School of Architecture, whose director, Enrique Castaño, read the laudatio. But in that eulogy also appeared the cartoonist Peridis, the Contertulio Peridis, the Peridis promoter of school-workshops in Spain and America, the documentary scriptwriter Peridis, the novelist Peridis.
More information
Peridis cartoon from 28 September 2021
Said Castaño: "Peridis is a social dynamizer of architecture ", And also" a curious polyhedral "who has published his cartoons in EL PAÍS for the past 45 years, writing historical novels, restoring churches and monuments, training future architects , that has promoted employment for young people … And that has already been awarded in each of these facets.
In his gratitude, José María Pérez, Peridis, who yesterday fulfilled 80 years, he recounted stories of his own life journey, peppered with some phrases that enlightened him: "Where there is a teacher, there is a school" (of his own harvest, but learned from the example of Francisco Canales, project manager), "until a ruin can be a hope "(Miguel de Unamuno)," science and conscience must go together "(of the former Alcalaíno rector Virgilio Zapatero).
The varied talents of Peridis came together to receive this honoris causa, but all of them, Despite their struggle with each other, they are summarized in one, the one that gives them life: the imagination. A childlike imagination that never got tired no matter how many years went by.