Technology
How many motions of no confidence have there been in Spain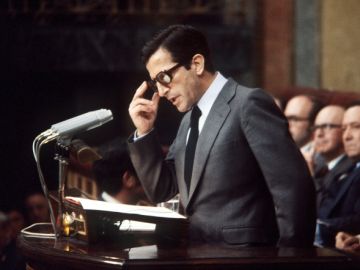 Posted: Wednesday October 21 2020 12:12 PM
The motion of censure held this Wednesday is the fifth in Spain's democratic history, the second in just over two years. With him, Vox intends to replace the Prime Minister, Pedro Sánchez, with his leader Santiago Abascal. To do this, the far-right party will have to win the support of the absolute majority of the Congress of Deputies, that is to say 176 deputies.
This is a difficult figure to collect and which has only been reached once: in 2018, when Pedro Sánchez's PSOE succeeded in carrying out its motion of censure against the then Prime Minister, Mariano Rajoy. Sánchez's candidacy won the support of 180 deputies (PSOE, Unidas Podemos, ERC, PDeCAT, PNV, Compromís, Bildu and Nueva Canarias) while 169 (PP, Ciudadanos, UPN and Foro) opposed it.
After this victory for Sánchez in June 2018, the procedure established in article 114.2 of the Constitution was applied for the first time: the government of Mariano Rajoy presented his resignation to the king and he in turn appointed Pedro Sánchez as new President.
That of 2018 was not the first motion presented by the PSOE. In 1980 Felipe González failed to carry out his proposal against the government of Adolfo Suárez (UCD). The then head of Socoalista came in 24 votes after getting the vote of no confidence. The session ended with the support of 152 deputies (Socialists, Communists, Andalusians and three representatives of the mixed group) for González's proposal, against the rejection of 166 and the abstention of 21 others – there were 11 absences during the session.
Seven years after the defeat of the PSOE, Alianza Popular presented the second motion of censure in the democratic history of Spain. With her they presented the candidacy of Antonio Hernández Mancha to replace Felipe González (PSOE). However, like the Vox censure motion on Wednesday, the Popular Alliance motion was also doomed to failure as the PSOE had an absolute majority in Congress. In this way, the motion received 189 votes against and only 67 for.
Only fifteen more votes in favor led to Pablo Iglesias' proposal in 2018. It was then that the leader of the left party expressed his intention to "remove the PP from the institutions" as "his priority". An objective that he could not achieve then, given that he only obtained the support of 82 deputies (United We Can, ERC, Compromís and EH Bildu).