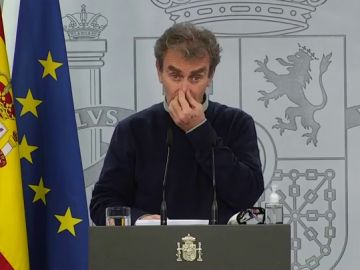 Updated: Tuesday, November 3, 2020 7:37 PM
Published on: 11/03/2020 19:09
Fernando Simón apologized for his comments about nurses during an interview. Before starting the press conference on the data of the pandemic in Spain, the epidemiologist apologized after the controversy sparked by a comment described as "sexist".
"I would like to speak about a controversy that has arisen in recent days following a public lecture I had with two friends. Faced with a very ridiculous joke, I was not able to answer correctly and I gave an answer that could bother a lot of people "the coordinator of the Center for alerts and health emergencies started,
"I apologize to any people or groups who might be disturbed by the words I said in response to this joke," he said.
So, the epidemiologist admitted that "he still has a long way to learn": "I'm sorry; but the truth is that I almost feel more for myself, because it hurts me that the effort of years to try to get rid of this baggage of reflections learned from fixed sentences that have nothing to do with my way of thinking, it has become clear that I still have a long way to go to learn ".
The General Nursing Council demanded that Fernando Simón apologize immediately for some "unfortunate" comments about nurses, which the collegiate organization called "sexist, primitive and humiliating".
Asked about the SATSE union's request to the government to dismiss him for "crossing all the red lines". "They can make whatever proposals they want, I won't go into what they can or can't offer. I am a civil servant, I do my job to the best of my ability, I coordinate a very important group of people who are doing a great job and while considering that I can be of use to the national health system, I will bring everything I can to the system, "he added.
"If someone considers that I have exceeded all the limits that he proposes where he has to propose it and that those who have to make the decisions will do anything. I have not much to say to that subject, "he settled.
The controversy arose during a YouTube chat with climbing brothers Iker and Eneko Pou. In it, Eneko Pou asked him: "It was not very clear to us whether you like infectious diseases or infectious nurses." To which Simón replied with a laugh: "I didn't ask them if they were contagious or not, we could see it a few days later."
"I have always been very afraid of women. I am very in love and that scared me, "added the director of the Coordination Center for Health Alerts and Emergencies (CCAES).
A fragment of the continuous chat that the Council called a "moment of sexist and retrograde disinhibition" and for which it showed its indignation.
Annoyance of various groups
But the controversy has transcended the nursing community. The Minister of the Interior, Fernando Grande-Marlaska, assured that Simón "must apologize" and added that if a "sensitive person" like this expert has these "serious blows", one has to wonder what still exists in this regard in society. According to the minister, "gender-based violence is also some comments, some unfortunately normalized attitudes."
The first vice-president of the government, Carmen Calvo, has been accused of Simón's "inappropriate" and "absolutely unfortunate" comments and urged him to "apologize" and explain that his comments cannot "be part of no reasonable message ". say something, because it cannot be part of a country where women demand respect, "she said in an interview.
Likewise, Defense Minister Margarita Robles said these were words that had not been "lucky" and added that she hoped he would apologize.
Health Minister Salvador Illa also trusted Simón to do the same. "I hope he himself brings a clarification on this," said the head of health, convinced that "a person who worked near the health groups" clarifies things: "He will express his support and admiration to all of them without distinction, and in particular to the infirmary, "he settled down.
The spokesperson for the PSOE in the Senate, Ander Gil, also spoke in this regard: "I would like Simón to have the opportunity to explain his words (…) I have it as a person capable of expressing his opinion and to recognize different situations when it is necessary to recognize them. I am sure that he will give the explanations that he deems appropriate, so I prefer to wait to hear his explanations ".
The Popular Parliamentary Group even registered a letter of complaint to the Observatory of the Image of Women, attached to the Ministry of Equality, in which it denounces the "sexist and humiliating" remarks of Fernando Simón against the group of nurses.
In said letter, promoted by GPP spokesperson Cuca Gamarra and Prohens herself, it is stressed that, according to the principles of said Observatory, the content will be considered "sexist or discriminatory", among other causes, "in cases of ridiculing, underestimation or humiliating presentation of women in any type of professional activity ".